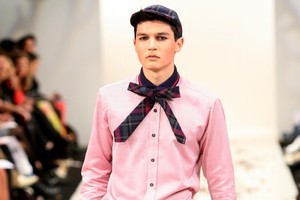 There's something endearing about designers Mickey Lin and Ra Thomson. The husband and wife designer duo showcased their collection Not So Grimm this afternoon, with a focus on what they love, tailored menswear, combined with the quirks of Asian street fashion.
The show opened and closed with self-proclaimed disabled model - Joshua Perry, a 19-year-old wheelchair-bound teen who also studied fashion at CPIT (both Lin and Thomson are former students) - who won the crowd over with his confident turn on the catwalk.
Having garnered a following for their menswear, the label has recently introduced women's wear into the MisteR fold, with models dressed in matching tailored suit jackets and skirts with contrasting lining (a signature detail also found in the menswear); as well as fine knit dresses in burgundy and navy.
This knitwear story also featured in the menswear with merino knit sweaters, styled with MisteR's signature print shirts and gingham bow ties.
With autumnal leaves scattered across the catwalks, this leaf motif was also featured on cotton shirts and blouses, creating a backdrop that touched on the label's fairy tale themes.
Having to re-establish its resources after being affected by the Christchurch quakes, the MisteR label has overcome major obstacles and its show today displayed why it has become a favourite with the likes of flamboyant personalities such as New Zealand's Next Top Model judge Colin Mathura Jefferee.
Its menswear (and now women's wear) with a nod to heritage tailoring and a twist - a look that relates well to their growing stockist list and their appreciative customer base.