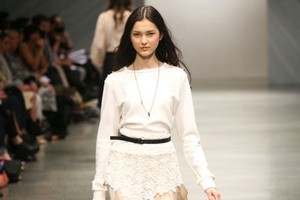 The New Generation show this afternoon highlighted five young labels: Two Wonders, Deryn Schmidt, Egoist, Katie-Maree Cole and Emma Manhart.
Two Wonders
Opening up the New Generation set, designer duo Sophie Knapp and Sophea Son from Wellington showcased a collection that was high on drama with floor-length gowns in rose golds, ruby red and black and accessorised with traditional yellow gold jewellery from Cambodia.
Inspired by the culture and people of Cambodia, the designers focused on creating modern shapes and showcased a promising flair for fairly glamorous occasion wear, something both Knapp and Son can potentially focus on developing as the label progresses.
The key outfit from the collection was an orange/gold skirt suit cinched in at the waist with a traditional yellow gold Cambodian belt.
OUR ONE-WORD REVIEW: Decadent.
Deryn Schmidt
Fellow Wellingtonian designer Deryn Schmidt debuted a well-styled presentation (thanks to Auckland based stylist Barry Betham) evoking post war 1940s glamour with broad shouldered jackets and crisp tailored suiting, tapping into fashion's current mood for the shapes and fabrics of that era.
Models walked out wearing oversized sunglasses, silk headscarves and an air of old world sophistication. Entitled Joy of Life, the collection's strongest feature was its tailoring, with one cream wool jacket worn over the shoulders making a particular statement with leather panels.
OUR ONE-WORD REVIEW: Nostalgic.
Egoist
Menswear label Egoist showcased two aspects that have been scarce this week so far: streetwear and menswear. Having only just begun in July of this year, the collection for next winter featured brightly-coloured belts worn around various shades of denim jeans, and t-shirting with Japanese symbols on them. Ironically entitled Progressive Thinker, there wasn't anything progressive to see here.
OUR ONE-WORD REVIEW: Bland.
Katie-Maree Cole
Designer Katie-Maree Cole's overall presentation focused on prairie-like shapes with full circle skirts, bell sleeve blouses and lace trims. Standouts included a velvet brown sleeveless dress and a dark plaid shirt.
Cole will no doubt follow in the footsteps of some of our more successful designers with a focus on feminine shapes and fabrics.
A promising collection that will go far, further enhanced by her goody bag gift of personalised Katie-Maree Cole stationary. Simple, timeless and effective, setting the tone for the label's aesthetic from the get go.
OUR ONE-WORD REVIEW: Innocent.
Emma Manhart
Bright block tones combined with black basics showcased by emerging designer Emma Manhart was a highlight from today, with a key piece including a wool lime green dress and a black and red floral brocade skirt.
Showcasing some clever knitwear, the designer's collection will no doubt appeal to her more mature target market.
OUR ONE-WORD REVIEW: Bright.