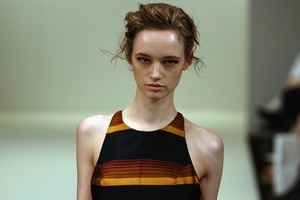 The thumping bass line from The Prodigy's Smack My Bitch Up provided the perfect statement track for the welcome return of Lonely Hearts to the NZFW schedule this afternoon.
Cornering the market for that hard-versus-soft aesthetic consistently for the past few years, Lonely Hearts showcased just why so many young cool girls have fallen head over heels for what it does.
Much like Jimmy D, who also showed earlier this afternoon, the Lonely Hearts label is known for its subversive aesthetic, drawing upon myriad references to create its own identity.
Delicate silk pleated dresses paired with soft leather shearling lined jackets stood out; as well as fine-knit floor-length dresses with exposed backs, revealing some intricate strap work from the label's lingerie line, Lonely by Lonely Hearts.
Exposed zips on the back of figure-hugging knit dresses was a key detail feature as well as some of the quilting seen on tough leather biker jackets.
A navy fabric with small white polka dots on silk was also a standout, featuring on pleated dresses and jackets; and a burgundy coloured wool sports jacket re-enforced that casual cool aesthetic again. Sportswear references continued through with the use of baseball caps and the slightly collegiate colour palette of maroon, navy and gold/mustard.
Styled by Karen Inderbitzen-Waller, the collection was a more sophisticated outing for the popular label and one that's sure to do well at retail come next season, based on a considered colour palette and choice of tactile fabrics.
OUR ONE-WORD REVIEW: Grown-up.