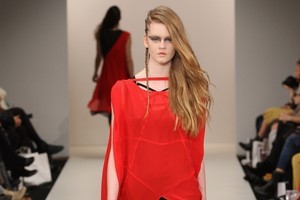 The Jimmy D show entitled It's a Kind of Majik conjured up a new romantic spirit for the quintessential Jimmy D girl today.
In an industry that has a sea of designers looking to emulate that dark poetic look that New Zealanders have become fond of, only a few designers have managed to pull it off successfully, particularly labels such as Zambesi and Nom*d who have pioneered this aesthetic for years.
For Dobson, it's always been about having a subversive nature to his signature handwriting of silk georgette dresses and soft jersey separates, further enhanced by his collaboration with Auckland-based artist Andrew McLeod.
McLeod's artwork of intricate iconography, Chinoiserie and Japanese woodcuts feature on long-sleeved tops; as well as a mystical occult pentagram that also formed the basis for some of the straps on Dobson's dresses and undergarments.
The collection also touched on unisex styles, with shorts and oversized hoodies that also featured McLeod's prints worn by male models.
Key pieces include leather harnesses with spiked studs, worn under sheer black silk georgette, creating the perfect summation of the Jimmy D muse - all at once dark, strong and beautiful.
The washed-out soft jersey pieces also stood as did the blazing pop of red silk georgette that featured on tops and dresses.
A special mention must also be made to the M.A.C team headed by Senior M.A.C artist Amber D whose intricate eye make up was the perfect accompaniment to the bewitched collection.
OUR ONE-WORD REVIEW: Mystical.