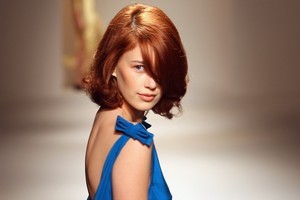 Day two of New Zealand Fashion Week got off to a fresh start - with the welcome debut of designer Emily Miller Sharma's new label Liam.
Described as possessing the spirit of sister label Ruby, but with a softer sophistication, the collection stood out with tailored silhouettes, shift dresses in bright block colours and a clear sense of direction for the modern woman.
Held off site in a shed in Grey Lynn close to the labels' headquarters, the stark white venue was the perfect backdrop in echoing the mood of the collection - clean, simple and modern.
Based around the idea of ceremonial dressing and the rituals and symbolism of getting dressed, Sharma's evolution as a designer is evident with her choice of fabrics and colour.
Standouts included the more tailored components of the collection, particularly the tuxedo style jacket and matching trouser suit; as well the appropriately named Black Tie dress in turquoise, a full-length column gown that had a dramatic cowl shaped back - an equally dramatic departure from Sharma's former label Madame Hawke.

No doubt Liam will garner the attention of a loyal customer base once the collection debuts next winter, reassuringly putting Madame Hawke well and truly to rest.
OUR ONE-WORD REVIEW: Classics.
Ruby
The second part of the morning show was from Ruby, with designer Deanna Didovich showcasing the kind of clothes her customers have come to love - on trend with a slight experimental approach.
For next winter, the Ruby girl goes on a retro-future neo-tribal expedition, which basically means an impressive combination of Aztec and African tribal inspired prints combined with coloured metallic leathers, art nouveau prints and modern patchwork.
Metallic coloured ankle boots and platform heels offset the range perfectly, taking the Ruby future retro agenda to another new level, despite the shoes only having just arrived in the country yesterday.
Knitwear was a key feature from the collection, probably one of the best knitwear pieces seen so far this week, including oversized chunky knit sweaters in mauve and mustard; and a short sleeved Angora t-shirt.
With the support of a strong creative team and business structure, the Ruby label has come into its own in more recent seasons, and since Didovich's appointment as designer, the label has gone from strength to strength.
OUR ONE-WORD REVIEW: Future.