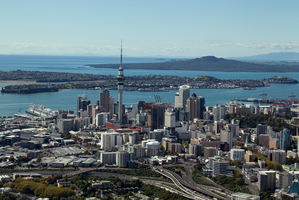 In the city of the future, super-efficient, smart buildings will communicate, sharing data to optimise energy performance and dramatically reduce operating costs.
This is the vision outlined by Microsoft global director of sustainability and energy Darrell Smith, at its TechEd conference in Auckland last week.
He says it's where "big-data" meets "the internet of things" and that everything from air-conditioning systems to transport infrastructure will be connected.
For Microsoft, this journey to the future has already begun and it has cut energy costs by 10 per cent on its 1.4 million sq m corporate headquarters near Seattle.
It's an impressive feat given the campus is the place of work for 58,000 employees - about the same number of people who call Nelson home.
The software giant plans to realise its vision on a grand scale and is in discussion with officials about turning nearby Seattle into a smart city.
You may think it is well and good for one of the world's largest software firms to provide a tailored solution for its buildings with its own in-house expertise. And yes, it will be some time before Microsoft's vision of a smart city is truly realised anywhere in the world.
But we don't need to wait for the advent of the smart city - these sorts of energy gains can be achieved right now in New Zealand' s commercial building stock.
In reality, the savings made by Microsoft didn't come from ground-breaking technological innovation. The truly smart thing they did was to analyse data generated by existing building management systems to find out how to improve energy use.
Then they put in place simple, off-the-shelf solutions, like controls to reduce over-lighting, and educated and motivated staff to improve energy use.
New Zealand building owners and tenants can make similar or even greater savings by understanding and improving their energy performance. The building management systems used by Microsoft are commonplace around the world, and if you work in an office there is probably one in your building waiting to be exploited.
Most of New Zealand's 11,000 commercial buildings could make energy savings of up to 25 per cent - double what Microsoft has reported saving.
A fully serviced high-rise spends between $300,000 and $500,000 on energy every year. At a cost of around $800 million every year, New Zealand's commercial buildings use about a fifth of this country's electricity and could potentially save $200 million of this.
But cost savings are just part of the story - there are also wider economic and social benefits.
When we use less electricity it reduces the demand for costly new electricity supply infrastructure.
Energy-efficient buildings have more effective heating and cooling systems, which can mean more even temperatures, a better working environment and happier, more engaged employees.
For some firms there is value in promoting their green credentials, which help them stand out in a competitive marketplace.
So why aren't more New Zealand building owners and tenants taking advantage of good energy management and all that it offers?
For some it's a lack of knowledge, with many believing energy is a fixed cost. Others know they could make savings but don't have the right expertise in-house.
Some landlords have no interest in improving the energy efficiency of a building because their tenants pay energy bills for things like lighting and air conditioning.
What has been missing is an independent, credible benchmark of energy performance to help owners and tenants improve energy use and make energy performance visible to the market.
But this is all about to change. A new scheme to measure and rate energy use is set to transform energy performance in New Zealand commercial office buildings.
NABERSNZ is based on a similar, world-leading scheme that has been operating successfully for more than a decade in Australia.
Like its Australian counterpart, NABERSNZ uses 12 months of energy use data to rate performance from one star (poor) to six stars (aspirational).
Just as the stars on energy rating labels do for consumer appliances, NABERSNZ star ratings give a clear indication of energy performance.
Since the scheme was launched earlier this year, a mix of public and private sector organisations have received NABERSNZ certified ratings.
Not surprisingly DNZ Property's Meridian Building, which is a flag-bearer for modern, sustainable design, has come out on top so far with an "aspirational" 5.5 stars out of six. But cutting-edge design is not a prerequisite to performance.
The Ministry of Social Development's Community Link building in Ashburton, which has no automated systems, achieved a 4.5 star "excellent" rating by motivating staff to switch off power.
Regardless of their individual ratings, these organisations are now much better placed to improve energy performance because the best opportunities for better energy management are revealed during the rating process.
And for the likes of large organisations like the Ministry of Social Development and Auckland Council, getting one building rated sets the bar high for their entire portfolio.
In the private sector, several premium commercial property owners are starting to use the tool to benchmark their portfolios.
As more businesses get their buildings rated, it will become a market norm as they increasingly realise the savings that are waiting for them today.
While Microsoft's integrated city of the future may yet be a few years away, being smart with energy use in commercial buildings is something we can do right now.