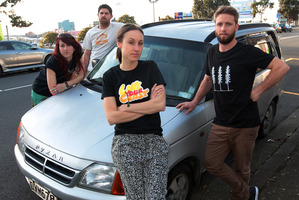 A multi-award-winning eco charity group is appealing for help for a new vehicle after its beloved "Black Beauty" truck was stolen by heartless thieves.
Members of Sustainable Coastlines have hitched lifts to beach clean-up events around the country since the black 4.2 litre Nissan Safari was nicked from outside their Auckland city centre headquarters three weeks ago.
The organisation had used the $10,000 4WD truck for the past five years to tow away 123 tonnes of rubbish collected from beaches by thousands of volunteers. It was also vital to transport staff and equipment to and from events.
"The vehicle was clearly branded, so to steal it from a charity is pretty low," Sustainable Coastlines co-founder Sam Judd said.
"We can't afford a replacement and I had to thumb a lift from Auckland to Raglan to attend a meeting, which is hardly ideal."
Since the van disappeared, the eco group has been forced to use a small Daihatsu vehicle to get around.
But it is not powerful enough to tow the piles of rubbish collected by clean-up squads.
"The little van was kindly donated to us but it stinks of rubbish and old socks. It is a shoebox and we can't fit in all of our equipment needed for our beach clean-ups," Judd said.
Sustainable Coastlines teamed up with the Herald on Sunday last year for a campaign called Beachbusters, aimed at encouraging people to help clean up our beaches. Since then, the group has collected numerous national environmental awards.
Judd was recently crowned Young New Zealander of the Year. The organisation also scooped an AMP Do Your Thing Scholarship, the Supreme Green Ribbon Award from the Ministry for the Environment, a Protect Our Coast and Oceans gong, plus a Local Heroes medal from Kiwibank.
There has been no sign of the truck but Judd believes it has likely been broken up and sold off for spare parts.
"When the thieves are eventually caught, I hope they end up on one of our young offenders programmes and are forced to help us clean up rubbish off the beaches. That would be karma," Judd added.
"We have a few big events coming up next month, including planting 600 trees around Raglan Harbour, and we desperately need a proper vehicle capable of towing a load. We would be more than happy to signwrite the new truck with any sponsors' logos."
To make a donation towards a replacement truck for Sustainable Coastlines, visit givealittle.co.nz/cause/bringbackblackbeauty.