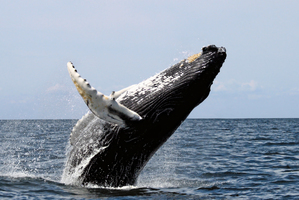 A survey to work out how many humpback whales migrate through Cook Strait is to end today.
It's the 10th year in a row the month long survey's taken place.
Numbers haven't been as high as hoped, due to the animals migrating later than expected.
Wellington marine ecologist Nadine Bott leads the survey and says she was hoping by this year to have answers as to how many humpback whales are in New Zealand.
"We're now having to look at a different type of analysis and just look at whether or not the population is increasing, decreasing or remaining stable. So it's more a trend in the population."
Ms Bott says in the first eight years of the survey the trend remained the same, but last year there was a significant increase.