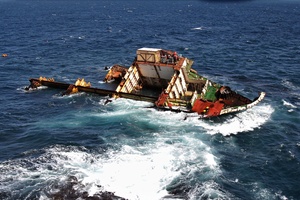 Heavy fuel oil on board Rena is expected to leach out over time, but the ship's owners and insurers say leaving the wreck behind is still the preferred option.
Tauranga City Council has also been told it was not only oil that could contaminate Astrolabe Reef.
Matt Casey QC, and Keith Frentz from Beca AMEC, presented a report to the council on behalf of Daina Shipping Company and insurer The Swedish Club this week.
About one to two tonnes of oil is believed to be on board Rena's sunken stern, clinging to containers, pipes, cargo, plus hydraulic oil. There were about 1646 tonnes of heavy fuel oil on Rena when it grounded. Salvors using the Awanuia bunker barge removed about 1425 tonnes and about 230 tonnes were lost to sea or collected from beaches. This did not include the 21 tonnes of diesel oil on the ship at the time. Of this, 17 tonnes were removed and 4 tonnes were lost at sea.
Six containers carrying cargo of "potential concern" also remained - three contain ferrosilicon, two plastic beads, one copper. Fading aluminium and fluoride from other cargo is expected to be left close to the reef and there was ongoing sampling in attempt to find it. Waikato University coastal scientists have investigated this and preliminary findings should be available within three months.
Mr Casey said full wreck removal was still possible, but it would not return the reef to its pre-Rena state.
There would be a greater health and safety risk to salvors involving extensive diving at depth.
Salvors could remain working on the reef for up to five years, Mr Casey said.
Councillors were given a snapshot of how much nature was reclaiming the stern section that broke off the wreck and slid down the side of the reef nearly 15 months ago.
Roger King, marine contractor for the ship owner's insurance company, said he was amazed at how much the reef was incorporating the Rena into its environment, rather than the other way around. The exclusion zone's impact resulted in salvors having to shoo schools of fish out of the way during surveys in order to see the containers that were becoming encrusted with marine life.
The update followed criticism from Mayor Stuart Crosby the council had been excluded from discussions about the Rena and was not getting enough information to have a clear understanding of the real issues.
No decision had been made on leaving Rena on the reef, but draft assessments had been distributed for stakeholder and regional council review. The Maritime New Zealand order for full wreck removal remains in place.
For more articles from this region, go to Bay of Plenty Times