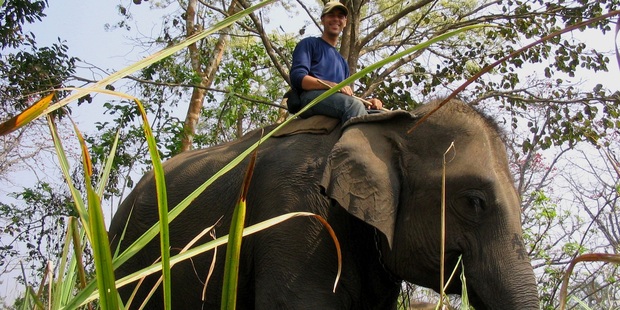 An international conference on conflict between elephants and humans is set to be held in New Zealand for the first time in May.
The University of Canterbury (UC) is hosting this year's south and southeast Asian elephant symposium, the first of its kind here, on May 7-8.
The conference, between anthropologists, ecologists, geographers, political scientists, historians, Sanskritists and zoologists from around the world, will focus on the increasing conflict between elephants and people in Southeast Asia.
Asia's elephant population has experienced a 90 per cent decline over the last 100 years, a situation that is becoming critical thanks to a 95 per cent loss of natural habitat.
UC anthropology lecturer and conference organiser Dr Piers Locke said conflict with humans brought about by habitat loss and population pressure was an acute problem, often resulting in death for both parties.
"Humans and elephants have a long history living alongside each other. Hindu and Buddhist religious traditions accord the elephant a sacred status and humans have been taming, training and riding elephants for millennia," said Dr Locke.
"The loss of traditional forms of employment, particularly in logging, has resulted in welfare problems not just for elephants, but also for their handlers. Both of these issues present a challenge for how the two species can share space and live together."
The decision to hold the conference in Christchurch was based on the UC's status as an international research university and Dr Locke's specialised expertise in human-elephant relations.
It is hoped that the symposium will advance the interests of the university's Ethnoelephantology Research Group, which is being developed by Dr Locke.
- nzherald.co.nz