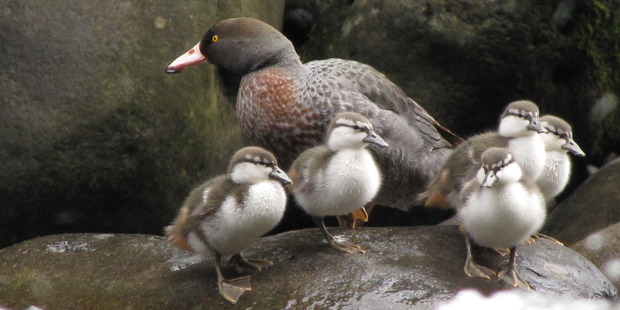 New Zealand's threatened species of rare native duck, the whio, is making a comeback after a bumper breeding season.
Featured on New Zealand's $10 note and with an estimated nationwide population of fewer than 2500 birds, whio are rarer than kiwi.
But a partnership programme between the Department of Conservation (DoC) and Genesis Energy is turning the tide and having a positive effect on the numbers of the bird which is found only in fast-flowing rivers.
A five-year recovery plan to protect breeding areas and habitat, Whio Forever, has resulted in the doubling of secure breeding sites throughout the country, while ramping up pest control.
The programme is already seeing results, says DoC's whio recovery group leader Andy Glaser, with particular success at North Island sites which have reported record numbers of fledglings this season.
The 153 breeding pairs at the four security sites have fledged a record 229 fledglings - beating last season's previous high of 177.
Flooding and slips in the South Island, however, had a major impact on the southern whio with around 100 breeding pairs across the four southern security sites that fledged only 27 birds this season.
However, a further 15 juveniles have been released in the southern waters.
March is 'Whio Awareness Month' and activities around the country will culminate with family fun days at Auckland Zoo on March 24 and 25.
A number of captive bred juveniles will be released during the month, at Wangapeka River catchment in Nelson Marlborough, the Tongariro River at the Tongariro National Trout Centre in Turangi, the Whakapapanui Stream in the Tongariro National Park and the Manga-nui-oTe-Ao River in the Whanganui area.
Mr Glaser says whio are the icons of the waterways because they live on fast-flowing rivers.
"This makes whio important indicators of ecosystem health - they only exist where there is quality fresh water and an abundance of life, so it is really important that we not only protect them but we also help build their numbers."
- APNZ