Mighty River Power posts buoyant half-year result but has to cut Waikato generation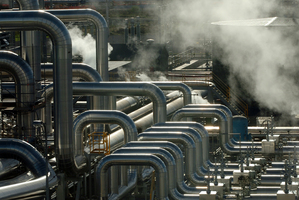 Mighty River Power says the driest summer in at least five years will affect its full-year result as it cuts back on generating power from its Waikato River dams.
The state-owned enterprise - tagged for 49 per cent sale in the first half of this year pending the outcome of a court challenge - yesterday reported a steep increase in net profit after tax for the six months to December 31 based on a 31 per cent growth in underlying earnings.
Most of its power is generated from the Waikato and inflows into the Lake Taupo catchment over summer have been the lowest since 2008.
Chief executive Doug Heffernan said the company was using its more expensive gas generator in Auckland to preserve water in Lake Taupo and this would affect the annual result.
With the planned partial listing imminent, he said he was unable to give guidance on the financial impact but said hydro generation was more efficient.
"The company will always do a lot better if it's got more water than less."
Partial listing prospect Mighty River Power has reported a $58 million improvement in net profit but taken an $89 million hit on the value of its investment in geothermal projects in Chile and Germany.
The company saw its profit for the six months to December 31 increase to $75.5 million. It will pay a dividend to the Government of $67.2 million.
Across the company underlying earnings - a measure that excludes unusual events - increased by $32 million on the prior comparable period to $133 million.
Mighty River said its result demonstrated improved operational performance but mixed results from the company's investment in the GeoGlobal Partners fund (GGE).
The $89 million non-cash accounting impairment related to the GGE fund's investments and its management company. This stemmed from higher estimated costs than anticipated by GGE, the manager at the Tolhuaca project in southern Chile, following the worst winter in 40 years which badly affected drilling, and only one of the two wells having good production capacity.
In Germany, GGE faced delays because of now resolved environment court challenges and the need for new drilling.
Mighty River's chairwoman Joan Withers said it was committed to its geothermal projects in Chile and Germany but would continue to take a "prudent" approach to further investment which to date amounted to US$250 million for the company which has assets of $5.7 billion.
"What's happening in New Zealand is that demand is flat, we've got lots of kit coming on so the requirement for any sort of generation is not there in the short to medium term," Withers said.
"We believe we had expertise - and what the investment in GGE allowed us to do was assemble a portfolio that would mean we were one of the top 10 geothermal companies in the world," she said.
"It is a mixed result in terms of impact but is still a core part of what we do as part of geothermal expertise and I think it would be sad if the company didn't continue to use that expertise offshore."
The deal had been changed to give the company more control at ground level in Chile. Its stake in the Hudson Ranch geothermal project in California had returned $140 million and contributed $57 million to after-tax profit.
The company said it achieved a "solid" operating performance as the company continued to achieve gains in market share in electricity sales to customers.
Its electricity price to customers increased 2 per cent to $115.32/MWh and associated volumes increased by 9 per cent as the company secured more business customers ahead of the commissioning of the 82MW Ngatamariki geothermal power station.
Total electricity purchase costs fell 22 per cent, reflecting lower wholesale prices as inflows into other companies' South Island catchments increased.
Mighty River Power chairwoman Joan Withers says the delay to the partial sale of the electricity company had given it welcome breathing space.
"I'm glad that we had the stop last year," she said.
Depending on the result of a Maori Council challenge, the company could be sold by the middle of the year.
"We've spent a lot of time preparing. Scoping studies started 18 months ago so we are very keen to get on with the next stage of our evolution," Withers said.
The cost of preparing for the initial public offering to December 31 was $6.7 million and she said "timing of when to push the button" was in the Government's hands.