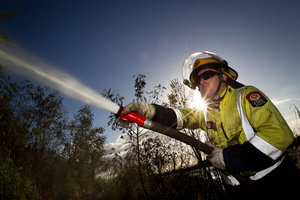 A fire ban for Auckland - the first for the region - will be reviewed today after two days of rain.
Principal Rural Fire Officer Bryan Cartelle said yesterday that if the rain continued overnight the fire ban could be eased.
But he warned against people lighting fires after the rain, saying the fire risk was still high and could quickly rise again from winds and high temperatures.
The forecast is for more rain today followed by fine weather tomorrow until the weekend.
After a long spell of dry weather, Auckland received between 2mm and 44mm of rain in a 24-hour period between Sunday and yesterday.
Mr Cartelle said there was a good dumping of rain in the north and western parts of the region, but less in the east, including just 2mm near Orere Pt in the Firth of Thames.
Cornwallis, in the Waitakere Ranges, recorded 44mm of rain.
Four or five breaches were being investigated since the fire ban was imposed on January 25, Mr Cartelle said. The Fire Service was also looking at recovering costs for putting out several fires.
A review by Niwa of last month's weather has found rainfall was at record lows for most of the North Island, with agriculturally important land in Auckland, Waikato and Northland receiving less than 10 per cent of their normal January rain.
Only 4mm fell at Tauranga, its second-lowest January rainfall since records began in 1898, and 7mm was recorded at Hamilton, its third-lowest since 1905.
The 9mm recorded at Auckland Airport last month was the lowest since 1962, while 4mm at Whitianga was its lowest on record.
The lack of rain and record-high sunshine hours had contributed to parched land across much of the country, Niwa climate scientist Georgina Griffiths said.
The moisture level in soil is so low in some areas that it is almost too hard to measure.
There is less than 20mm of rain in soil in the Northland, Auckland, Waikato, Bay of Plenty, Gisborne, Hawkes Bay and Wairarapa regions, where moisture capacity is 150mm.
All of those areas are graded as having "extreme" moisture deficits.