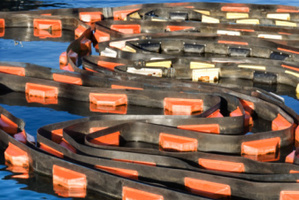 A fuel spill from a fire-damaged fishing vessel docked at Lyttelton Harbour has been mostly cleaned up after authorities were able to skim it from the water.
A clean-up operation was launched after the vessel Ocean Breeze was found to be leaking from its fuel tanks while docked at the commercial wharfs this morning.
The vessel was damaged by fire while drydocked in August and had since been returned to the water and was preparing to leave the wharf when the leak occurred.
Environment Canterbury regional on-scene commander Jim Dilley said the fuel had been leaching out under the waterline overnight.
"There is a strong smell of diesel and a fair amount of oil which we are working to contain. We have a boom in place around the vessel and will then use a skimmer to recover the oil from the water."
A Environment Canterbury spokeswoman said this afternoon that the boom had since been pulled in because most of the oil had been cleaned up.
There were still some minor oil patches in the middle of the harbour.
Mr Dilley said the spill was in a busy commercial area so only a few seabirds, mainly seagulls, used the area.
The birds would be monitored for any adverse effects.
A fire ripped through Ocean Breeze, a tuna trawler, in August, sparking a toxic gas leak.
Up to 60 firefighters battled for 12 hours to extinguish the fire on the 60 metre vessel.
- APNZ