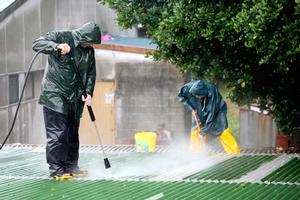 Forget your carbon footprint - if you want to be environmentally chic you need to be concerned about your water footprint.
Worries over how much greenhouse gas is being created to fulfil our everyday needs are being rivalled by fears of the human race's use of what is a finite, essential resource.
While New Zealand's agrarian industries use a lot of water, scientists say its overall situation should place it in good stead as retailers start to consider how much water is needed to make and transport the products they sell.
Plant and Food Research scientist Brent Clothier said the water issue was still five to 10 years behind that of carbon, but "it's going to reach a crunch quicker than carbon".
"Because of climate change, it's going to hurt us quicker."
Last month, Britain's chief scientist Professor John Beddington warned of a "perfect storm" of food, water and energy shortages by 2030, where food prices would rise, more people would go hungry, and people would flee the worst-affected regions in their millions.
Detailed research is still to be done into water footprints in New Zealand.
"The issue for us is that our food has a reasonably high water footprint, we think, and we are just starting to find that out," Dr Clothier said.
"The good news is, however, that we use only a small fraction of our water resource to produce that food. So we can do it sustainably, where the rest of the world is going to struggle."
While a lot of "food bowl" countries would be short of water as the climate changed, New Zealand was going to be "reasonably blessed by quite benign climate changes in relation to water".
Dr Clothier said New Zealand needed to "rigorously" measure the water footprints of its products and assess the risks and opportunities.
"And in our case, the ledger is on the opportunities."
Retail giant Wal-Mart is among major worldwide chains currently looking at developing a common standard for environmental footprints such as water.
Kiwifruit exporter Zespri says questions are just beginning to be asked in the world market about water footprints, as retailers start to incorporate it into their marketing alongside the likes of the carbon footprint.
"We want to understand what our footprint is before we get asked that question," said innovation leader Alistair Mowat.
* Water mark
The water footprint of an individual, community or business is defined as the total volume of fresh water that is used to produce the goods and services consumed.
The production of 1kg of beef requires 16,000 litres of water.
140 litres of water is needed to produce one cup of coffee.
1000 litres of water is needed to produce 1 litre of milk.
1350 litres of water is needed to produce 1kg of wheat.
3000 litres of water is needed to produce 1kg of rice.
Source: www.waterfootprint.org (citing overseas calculations)