This week Viva profiles three entrepreneurial Kiwis who call California home. We'll share one of their inspiring stories with you each morning.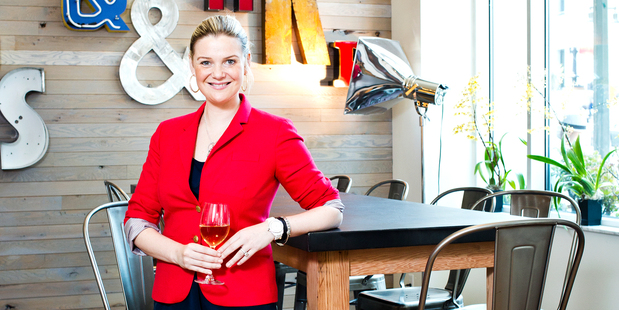 ANNA WEINBERG
Anna Weinberg likes to see humour amid madness. Just weeks before finding out she was pregnant, Weinberg signed a contract with the Viceroy Group (a line of upscale hotels in America) to serve food and drinks at the newly opened hotel, Zetta, in downtown San Francisco. Fast track 10 months and the doors of the hotel open and baby Leo is only 2 months old.
"Yeah, why don't you, on top of having a baby, do around-the-clock food and beverage service?" she laughs. "When Jen [her chef business partner] and I first started room service we had to come in at 5am to work out how to do it. It felt like Fawlty Towers around here. The weirdest thing I've ever done is take a tray to someone's room and they're naked, or in bed. It's just so uncomfortable!"
Although she is green when it comes to room service, Weinberg is an old hand in the restaurant business. The New Zealand native, "still only 36", was named Restaurateur of the Year in the San Francisco Magazine Best Chef Awards last year and part-owns two hugely popular restaurants, Marlowe in the SoMa district, which the San Francisco Chronicle awarded three stars, and Park Tavern in bustling North Beach.
Weinberg's third San Francisco restaurant and bar, The Cavalier, next to Hotel Zetta, is a work in progress. She escorts me through the hip lobby of the hotel to the construction site next door.
"It'll look like a scene from Downton Abbey. There'll be a carriage section designed like the interior of an old train and vintage brass coat racks." Out back they're building a "Marianne Faithfull-style" private bar, with access through a bookcase. She's predicting many of the private bar guests will be their investors - Silicon Valley hotshots, such as the founder of Instagram.
Weinberg's Italian husband, James Nicholas, also an investor and equal owner in her restaurants, has nurtured the business side of all three projects.
"I could never understand how restaurants could be full, but not making any money. Now I know it starts out with the right lease and a great business plan. All those things, James is good at. We'll be looking at US$20 million turnover next year," she says with disbelief.
Her American journey began when she was 21. Weinberg had been working in Auckland at Italian restaurant Prego and as an actress with parts on Shortland Street and Xena, so when she arrived in New York she tried her luck auditioning.
"I was a horrible actress. I wasn't good enough and I didn't have the drive, but I discovered I loved food and wine and the aspect of service."
So she set out to work at some of the best restaurants in New York, including Barbuto in the West Village, whose owner Jonathan Waxman taught her "everything I know".
Weinberg said goodbye to New York after falling for her husband-to-be via a set-up organised by close friends. It was love at first sight, so she packed her bags and headed to the West Coast.
But it wasn't an easy transition after eight years in the Big Apple.
"It made me really focus on work. Now, I love San Francisco. I wouldn't want to be anywhere else."
A friend she met in New York, chef Jennifer Puccio, became her business partner and the two opened Marlowe in 2009, a bistro-style restaurant with Weinberg and Puccio's signature masculine interior style and clean Californian flavours .
"Jen and I worked out most people prefer to be in a masculine space. I don't want to sit in a feminine room. It doesn't make me want to get hosed on good scotch!"
Puccio and Weinberg travel at least once a year for a menu research trip. "We visit five restaurants in one day and we have strict rules. We order everything on the menu, take two bites and try not drink until 5pm. But some days we go off the rails and start on the rose at 10am."
Her "off the rails" congeniality seems to have worked. Park Tavern is the hot spot in town; Vince Vaughn and Owen Wilson were in the other day and Danielle Steel is a regular, she says.
"But hey, we're just slugging drinks at the end of the day." And, with a hoot of laughter, she heads back to the construction site.


Anna Weinberg's Top Tips
• Local bar: Bloodhound, 1145 Folsom St.
• Spa: Remede Spa, The St Regis San Francisco, 125 3rd St.
• Shop: Bloomingdale's, Westfield Plaza, downtown.
• Best meal: Devilled eggs at Park Tavern, 652 Stockton St.
• Best city nightclub: Vessel, 85 Campton Pl, San Francisco.


Check out Innovative Kiwis Part 1: Victoria Ransom
- VIVA