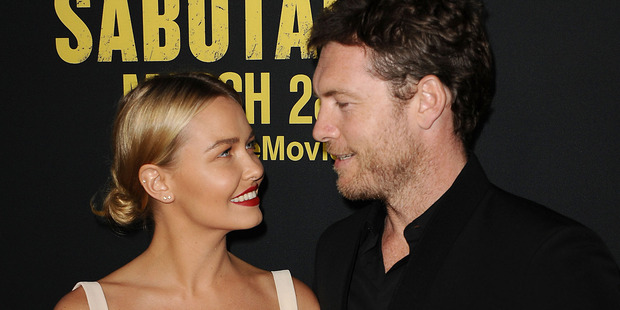 Lara Worthington just got totally slammed on live radio for trying to insist that she and her husband "aren't rich".
Worthington owns her own makeup business and her husband just so happens to be Sam Worthington - the star of major blockbusters suck as Clash of the Titans, Terminator Salvation and, oh yeah, James Cameron's Avatar.
READ MORE:
• Cliff Curtis lands star role in Avatar films
• Lorde's big babysitting fail
Worthington (formerly Bingle) appeared on Aussie radio station KIIS FM with Kyle and Jackie O during the station's "secret sound" segment, where listeners can win $50,000 should they guess the sound correctly.
When she was asked to try her hand, Jackie joked that she could "win 50 grand", at which point Kyle hastily interrupted saying: "celebrities are not allowed to win".
Worthington replied by claiming "we're not rich", but was almost immediately shut down by Kyle.
"Bull shit. I don't think that's true," he said.
"'We're not rich' - we've just got the biggest movie franchise in the world and our own make-up company," he mocked.
Lol at Lara Bingle saying her and Sam worthington aren't rich.
MATE you're rich compare to the average Aussie.
Sam was in avatar

— jackie (@JackieWarner13) May 9, 2017
Kyle and Jackie O scoff as Lara Worthington claims she and Sam are 'not rich' = why would she know - she lives in a dream world

— David B. (@51Sel) May 9, 2017
@kyleandjackieo @MsLWorthington #KJSHOW BEST was I'm not rich. Half my Centrelink goes to rent. Swap? Even in OZ it's cheaper; for most to be dead #auspol #1stworldproblems

— WHYONLYME (@whyonlyme123) May 9, 2017
Worthington is a model, well-renowned for flaunting pricey fashion outfits and designer accessories. She also owns her own make-up business, The Base by Lara Bingle.
Her husband Sam Worthington, meanwhile, is reported to have an estimated net worth of $12 million.