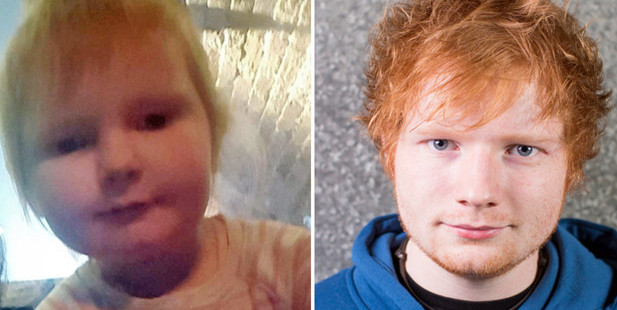 This young girl from Exeter is a dead ringer for Ed Sheeran.
According to her family, people regularly comment on the similarity between two-year-old Isla Walton and the flame-haired singer-songwriter.
"Everyone comments saying how shes a mini Ed, and I call her baby Sheeran," Isla's aunt Stacey told the Sun.

Happily, Isla is a fan of her grown-up doppelganger's songs. "She loves his music, tries to sing along to the words and has a dance," says Stacy.
With his distinctive features, Sheeran has no shortage of lookalikes:
If you guys think your @edsheeran lookalike is the best you've clearly never been to FND at L'boro Uni @TheGNShow pic.twitter.com/Dhg6jMIh6Y

— Alice Smith (@alicevmsmith) January 20, 2017
@thismorning @Rylan @edsheeran Talking about #edsheeran lookalikes? My friend @thehotwombat is his doppelgänger!! Happy #StPatricksDay pic.twitter.com/p61EDTtlOT

— Kerry Elgie (@Kez25_2000) March 17, 2017
MDDiscoSussex : Filming on the show "Lookalikes" with the brilliant Ed Sheeran lookalike pic.twitter.com/JaNyhlo57E (via Twitter ...

— Everything Bexhill (@BexhillThings1) February 8, 2017
@edsheeran
Hey Ed! Just sending you this photo of my little boy .. some say he is a mini Ed Sheeran lookalike. Made me smile anyway pic.twitter.com/K0ISoCtKcD

— Alley (@Alleymonefox) January 19, 2017
@edsheeran lookalike Ty Jones pic.twitter.com/rEUsce8GL4 #edsheerancopy

— Chris (@skyblue66) June 20, 2016
It was confirmed last week that Ed Sheeran would be one of the headliners for this year's Glastonbury.
The Telegraph's Neil McCormick welcomed the news saying:
"The guitar-slinging troubadour has got everything it takes to be a festival sensation: talent, charisma, almost unmatchable popular appeal and stirring, heartfelt songs that hundreds of thousands of merry revellers can sing along to."
"As the closing act on Sunday night, I fully expect one of those genuinely astonishing displays of communal joy and solidarity that make Glastonbury festival special, whatever the weather."
However, not everyone is a fan.
His latest album has divided critical opinion, and Michael Deacon, who describes Sheeran as an "unassuming, likeable young man who performs pleasant, tuneful, old-fashioned love songs," remarks: "Is this really what we want for our children?"