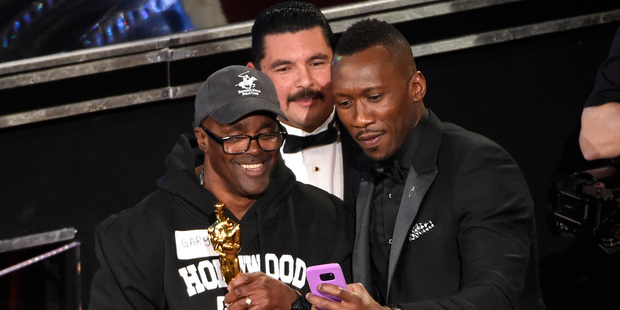 Jimmy Kimmel just made an attempt at a hilarious prank at the Oscars and failed kind of miserably.
The Oscars host gathered some unsuspecting people from a Los Angeles tour bus and brought them into the theatre, turning off all the lights to surprise them.
The aim was apparently to capture the surprise on their faces the moment they realised they were at the Oscars which, with some fans at least, paid off.
When you enter a room and realize you're live at the #Oscars... pic.twitter.com/h0Axc2zDzE

— People Magazine (@people) February 27, 2017
But not everyone was all that surprised and instead just took to filming the entire thing on their phones.
The fans moved down the front row shaking hands with Nicole Kidman, grabbing a gift from Ryan Gosling, taking Jennifer Aniston's glasses, hugging Meryl Streep and even holding Mahershala Ali's Oscar for best supporting actor.
A Chicago man named Gary prompted Kimmel to comment: "I feel like you're ignoring all the white celebrities", to which the man replied: "Yes, I am" as he and his partner rushed forward for selfies with Denzel Washington and Mahershala Ali.
Jimmy Kimmel: "I feel like you're ignoring all the white celebrities"

Gary from Chicago : "Yes, I am"

#Oscars pic.twitter.com/cIEEvCzjpT

— alex medina (@mrmedina) February 27, 2017
The prank went on for so long that things very quickly got awkward, as the stars - who had presumably not banked on having to meet and greet with fans during the ceremony - had to shake hands with a busload of strangers as they made their way across the stage to the exit.
One fan even decided to take advantage of the moment, grabbing the microphone from Kimmel to announce to the Hollywood elite that she'd just gotten married two weeks ago.
Why? Well. When you get centre stage at the Oscars during a random LA tour, why not?
We all wish we were Gary, tbh #Oscars pic.twitter.com/SihCFd8EqD

— Aaron Dodson (@aardodson) February 27, 2017
THE STAR OF THE #OSCARS!!! pic.twitter.com/BzS3ezGqhF

— Paul Wontorek (@PaulWontorek) February 27, 2017
Still not over this moment #Oscars pic.twitter.com/2Xre7AwI5K

— Marie Claire (@marieclaire) February 27, 2017
That one dude wanted nothing to do with the #Oscars pic.twitter.com/Dtz5uDxnqb

— Mashable (@mashable) February 27, 2017