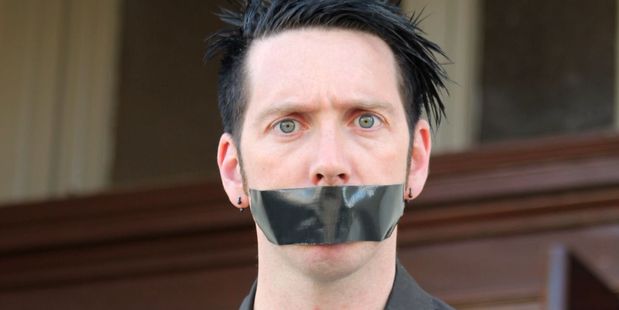 A mime artist was slammed by UK breakfast show This Morning viewers who branded him "unfunny and pointless".
Tape Face, aka Sam Wills, 38, from New Zealand, shocked those watching at home with a strange act where he groped himself and then swore at the camera.
READ MORE:
• Polly not on air after Facebook post
• Atomic Kitten's wild night out in Auckland
He even roped in presenter Eamonn Holmes to participate in his skit while Ruth Langsford watched on from the sidelines, but his efforts failed to win over viewers, who complained about him holding up two fingers on the daytime show, the Daily Mail reports.
The silent comic, who made it to the final of last year's America's Got Talent, had a red cape draped over one arm to imitate a woman while he swayed to the sounds of Chris De Burgh's Lady in Red.
Pretending that the woman wasn't impressed with his wandering eye he pulled his own face back to hers before then groping his nether regions which was where the female's backside was supposedly located.
And then if that wasn't enough when she became irritated he stuck two fingers up at the camera which one viewer interpreted as him 'telling the whole of England to f*** off'.
Others were equally dismayed by the routine questioning why Tape Face had been given airtime: 'What a waste of airtime. Unfunny and pointless.'
@thismorning @TapeFaceBoy @EamonnHolmes what a waste of airtime. Unfunny and pointless.

— Jeni jeni (@jenimeli) February 3, 2017
@thismorning @TapeFaceBoy @EamonnHolmes he told the whole of England to f off

— rachellouise (@rachelstanley10) February 3, 2017
#ThisMorning And this tape face geezer is funny why?.. #PileOShite

— Tina (@Crazier) February 3, 2017
What an idiot that 'tape face' on @thismorningit wasn't funny at all...just embarrassing yikes....

— Lauren T (@LaurenTew) February 3, 2017
@thismorning Tape Face....what a load of codswallop...never laughed once. Return to the sender indeed

— Justin_Credible (@Itsin_Credible) February 3, 2017
The tape-face dude just aint funny Its kinda what the kids do when they act silly and u have to pretend to laugh #ThisMorning

— Missy (@MissMorgansBox) February 3, 2017
Playing along with the mime Eamonn was a good sport while Tape Face stuck pieces of white tape of his chest area and measured out another long piece of tape that he place on his belly.
Then making it into a face he wrapped his arms around the Irish presenter and open and closed an envelope like it was a mouth singing.
Tape Face left the studio and Eamonn took his place with the help of Ruth who stuck a black piece of tape over his face to keep him quiet.