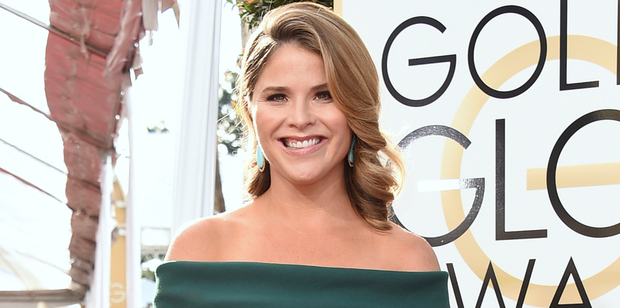 At every awards show, there's always one red carpet mistake that is more memorable and awkward than the others. This year, that distinction might go to Jenna Bush Hager, NBC's Today show correspondent who co-hosted the network's special before the Golden Globes on Sunday night.
"So, you're nominated for Hidden Fences," Hager said to singer Pharrell, before asking him about how he planned to celebrate the night.
"you're nominated for Hidden Fences" pic.twitter.com/7My6dtEkbG

— Dave Itzkoff (@ditzkoff) January 9, 2017
Read more:
• La La Land sets new record with seven wins
• Reynolds, Garfield kiss at Globes
Cue a very confused look by Pharrell, because he is nominated for best original score for the movie Hidden Figures, which is centered around three black women working behind-the-scenes at NASA in the 1960s.
Fences, of course, is another movie starring black actors, with Denzel Washington and Viola Davis in the leading roles of a film based on August Wilson's play. Clearly, people on Twitter had a lot to say about that mix-up.
Jenna Bush doesn't care about black movies. #GoldenGIobes

— Sam Adams (@SamuelAAdams) January 9, 2017
Hager wasn't the only one to get the movie names wrong. While presenting best supporting actress (in which Hidden Figures star Octavia Spencer and Fences star Viola Davis were nominated), Michael Keaton also called the movie Hidden Fences.
Did Michael Keaton just say "Hidden Fences"? Someone was not on pre-show Twitter.

— Vulture (@vulture) January 9, 2017
Soon, #GoldenGlobesErrors became a popular hashtag.
How To Get Away With Scandal#GoldenGlobeErrors #HiddenFences

— Tam (@Sw33tTamBam) January 9, 2017
The Color Blackish#GoldenGlobeErrors pic.twitter.com/BZtRrw5vux

— Melanin God™ - 1/25 (@TrueTashan) January 9, 2017
The Help Got Away With Murder #GoldenGlobeErrors #HiddenFences pic.twitter.com/OCDmNnxerP

— Miss Badiane (@MissBadiane) January 9, 2017
Boys in the Wood #GoldenGlobeErrors #HiddenFigures #HiddenFences pic.twitter.com/6M4D7jcLA8

— Nofro Samurai (@nofroxsamurai) January 9, 2017
Black Twitter turns the #GoldenGlobes constant #HiddenFences flub into #GoldenGlobeErrors https://t.co/JmbPNhuzYv pic.twitter.com/Kfq2243bdm

— Blavity (@Blavity) January 9, 2017
It wasn't the only mistake on NBC's broadcast: On the red carpet, Natalie Morales said that Jeffrey Tambor was from the show Transgender. (It's actually Transparent.)
Later, viewers found out that co-host Al Roker accidentally referred to Jessica Biel as the actress "Jessica Alba" - apparently he had to film a new introduction, so the audience didn't get to see that mistake.
Oh. Ok. @JessicaBiel @jtimberlake #GoldenGlobes pic.twitter.com/p7s6kywIZy

— Who What Wear (@WhoWhatWear) January 8, 2017
"We're here with Justin Timberlake and Jessica Biel. I said 'Alba' before," Roker confessed as Timberlake and Biel cracked up next to him. "We're doing it again."