Mariah Carey is reportedly launching her own "full investigation" into the NYE bungle, as more details emerge about her dodgy performance.
According to The Sun, a source said she believes there was "foul play" involved and has vowed to get to the bottom of the concert blunder at Times Square in New York.
The source close to the star said: "Mariah is fuming and has been left very upset for the past couple of days. She won't let this go and believes somebody tried to sabotage her.
"She is launching her own investigation into the incident."
Carey is said to be furious that the production company, which has passed the buck.
The 46-year-old singer's camp has accused Dick Clark Productions of letting her get on stage with dodgy earpieces - a claim the company denies.
According to TMZ, sources claim DCP took the blame for the bungled performance "right after it went down."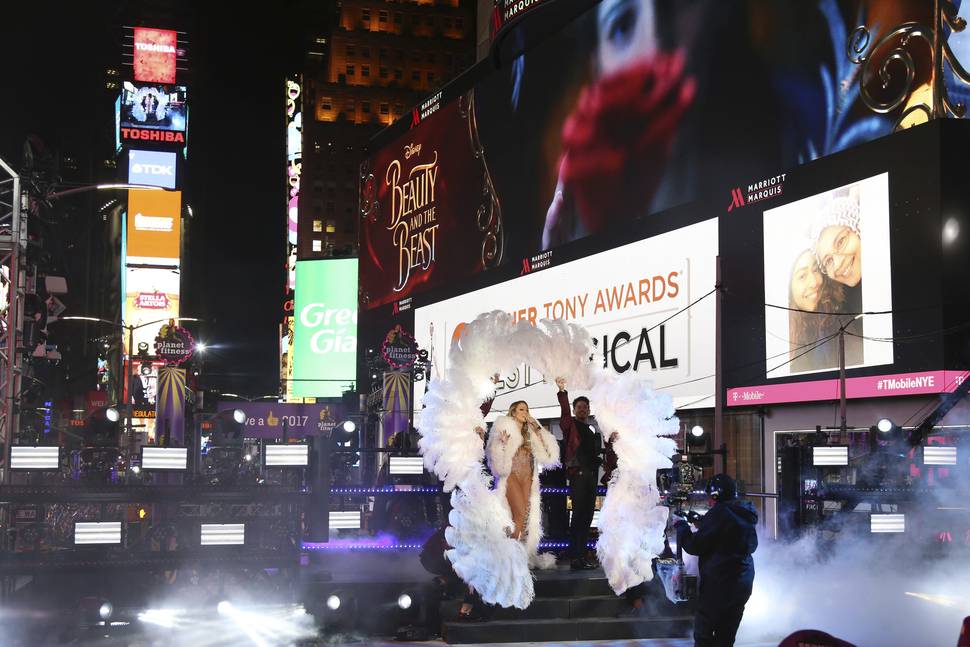 The entertainment website claims DCP staff were "screaming" about Carey's malfunctioning earpiece, with one saying: "I don't care that her ears didn't work. She could've just winged it."
Carey's camp said DCP executives begged her to perform for the "New Year's Rockin' Eve" special - which she did for free.
While DCP claim Carey got her stand-in to do the sound check, TMZ reports that the stand-in did the dance routine but Mariah did all the vocal check.
According to TMZ, a source from Carey's camp stated: "We could be in Aspen right now having the best time instead of being in dog s**t Times Square that smelled like a f*****g sewer."
DCP yesterday accused the singer's camp of defamation after they claimed the company sabotaged her show to create "drama."
Sources told TMZ Carey warned DCP executives more than an hour before she took to the stage that her earpieces weren't working.
"As the premier producer of live television events for nearly 50 years, we pride ourselves on our reputation and longstanding relationships with artists," the company said in a statement.
"To suggest that dcp, as producer of music shows including the American Music Awards, Billboard Music Awards, New Year's Rockin' Eve and Academy of Country Music Awards, would ever intentionally compromise the success of any artist is defamatory, outrageous and frankly absurd."

Carey's spokesperson, Nicole Perna, claims the Emotions hit maker was set up to fail in front of millions of viewers worldwide. She said she had no problems during rehearsals.
"She was not 'winging' this moment and took it very seriously," she told Billboard. "A shame that production set her up to fail."
Carey's manager, Stella Bulochnikov, told Us Weekly that producers aired the singer's trainwreck performance (instead of cutting to a commercial break) to boost ratings.
"I will never know the truth, but I do know that we told them three times that her mic pack was not working," Bulochnikov said. "They did not cut to a commercial. They did not cut to the West Coast feed. They left her out there to get ratings."
The new claims come after Carey fought back yesterday, with a post saying: "Sh*t happens. Have a happy and healthy new year everybody! Here's to making more headlines in 2017."
TMZ
reported yesterday that Carey first complained when she could barely hear Ryan Seacrest as he interviewed her before the Times Square set.
Carey's camp was reportedly told the singer's earpieces would be on a different frequency when she performed and there wouldn't be a drama. But just six minutes before her now-infamous performance, the pop star was alarmed and told the production team she couldn't hear anything.
TMZ reports that Carey decided to get on stage four minutes early to test the devices, despite the assurances of production staff. But they still didn't work.
Carey's camp also said the prompter - which runs the song lyrics and stage cues - wasn't working. They believe there were too many "coincidences" and it was a simple case of "sabotage" so the production team "could get Mariah drama."
HOW MARIAH'S MELTDOWN UNFOLDED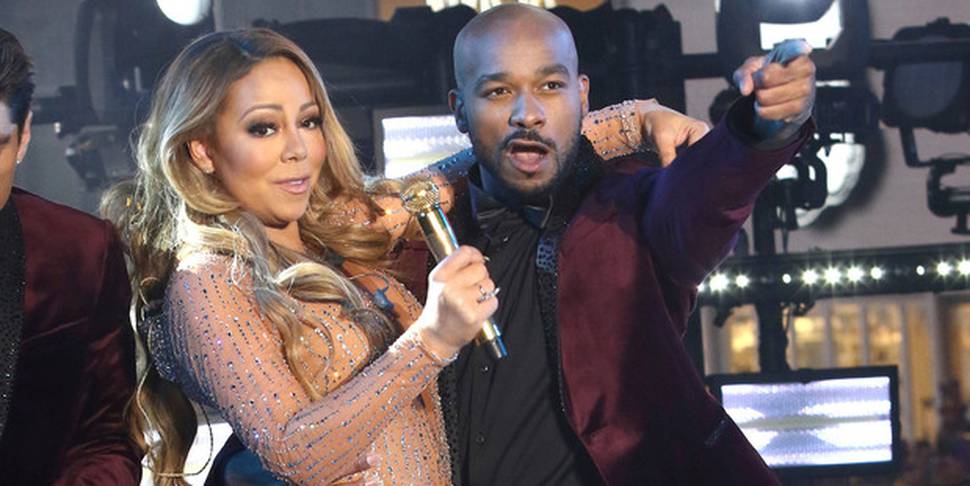 Unable to hear her own song track, she ultimately gave up and stood on the stage with closed mouth and a hand on her hip. Meanwhile, her vocal track went on without her.
"Well, Happy New Year," she huffed. "We can't hear, but I'll just go through the motions," she said, later adding, "I'm trying to be a good sport here."
Naturally, the social media reaction was swift and severe.
"ISIS just took responsibility for Mariah Carey's performance," tweeted Bruce Rosenberg.
Bonnie Bernstein tweeted, "the amount of sh*t hitting the fan right now behind the scenes of that #MariahCarey lip synch debacle."
Jessica Winters tweeted: "Mariah's backup dancers deserve Oscars for their performance of having to act like nothing was wrong."
At 2am on New Year's Day, Carey responded on Twitter: "Sh*t happens. Have a happy and healthy new year everybody! Here's to making more headlines in 2017."
MARIAH'S HISTORY OF MALFUNCTIONS
Few singers can match the career of the multi-octave superstar Carey, the winner of five Grammys who has sold more than 200 million records worldwide.
But sometimes, life gets a little strange in the spotlight.
She cursed on television during a 2013 appearance in Central Park that aired on Good Morning America, a performance also disrupted by a tear in the back of her dress.
While singing Always Be My Baby on the Today show in 2014, she seemed to suffer from temporary voice freeze, as her mouth moved but for several seconds no sounds came out.
TV watchers also remember her wacky "ice cream cart" cameo on MTV and the sight of her needing four people to put on her shoes during a scene from the reality program Mariah's World.

Then there was the humiliation of Glitter, Carey's disastrous 2001 foray into film stardom, which was lambasted by the critics and public alike.