He spoke about his toiletry habits, his hoarding abilities, his hatred of Russell Crowe and his distrust of computers, but Paul Henry kept his tributes to departing co-host Hilary Barry to a minimum.
Barry read the news for the last time on Paul Henry this morning, and will read the 6pm news on Newshub for the final time tonight, after 23 years at the network.
Read more: 'When Hilary Barry leaves, we'll be OK'
While tributes flowed from guests and viewers, Henry remained largely silent about Barry's last day during the three-hour show, uttering just a few words at the end of the broadcast.
"Hilary, thank you very very much for the heart beats you've given to this show," Henry said.
"I've loved working with you ... we've laughed ... and we've laughed inappropriately."
Henry also said there was going to be "quite the bash" after her final stint on the 6pm news, and joked, "we've got a Kmart voucher somewhere for you" - a reference to news this week that John Campbell received a "shitty" bunch of flowers from the network on his final day.
Read more: John Campbell got a terrible parting gift from TV3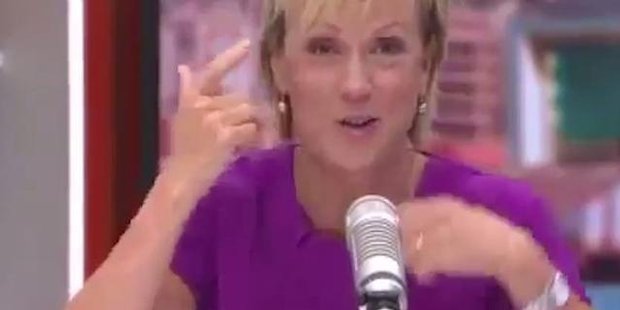 Barry, wearing a red shirt, didn't say much during the broadcast. Henry even tried to cut Paula Bennett and Annette King off when they gave her a gushing goodbye.
But Barry's other co-hosts didn't hold back on social media, with sports newsreader Jim Kayes calling her a "wonderful mentor and friend".
Seriously worried about losing my pronunciation guide. Thanks heaps @Hilary_Barry wonderful mentor and friend. pic.twitter.com/AozDqh3m3w

— Jim Kayes (@JimKayes) May 26, 2016
Social media editor Verity Johnson said on Facebook that Barry was "the reason I didn't quit on day one".
Viewers also paid tribute on Twitter.
@MsKateRodger @PaulHenryShow Give @Hilary_Barry a farewell hug from me. We've never met, but in my head, we're the best of friends :)

— Darren Bevan (@geekboy73) May 26, 2016
So today is @Hilary_Barry day & she has lit up my mornings & evenings for years. Thanks for being such a fab person. Enjoy the sleep-ins ??????

— Sonia Yoshioka Braid (@eloquentsonia) May 26, 2016
Love you @Hilary_Barry ! Soon you will have more time to perfect your culinary skills...let's have another bake off! pic.twitter.com/kjB54Ol4Fg

— Charlotte Ryan (@CharlotteRyanNZ) May 26, 2016
Even One News got in on the action, tweeting this pic of Bennett and King saying goodbye to Barry.
MPs @paulabennettmp and @AnnetteKing bid farewell to @Hilary_Barry on her last day. https://t.co/eyHC0bUYio pic.twitter.com/V1MQIkXK3K

— ONE News (@ONENewsNZ) May 26, 2016
No official announcement has been made, but sources have confirmed Barry will be joining TVNZ's presenting team in the near future.
Barry's departure, revealed by the Herald on April 29, is the second high-profile casualty at TV3 in the past year after John Campbell left last May when his show Campbell Live was dumped.
In a statement, Barry said she was "looking forward to recharging my batteries and spending more time with my family".