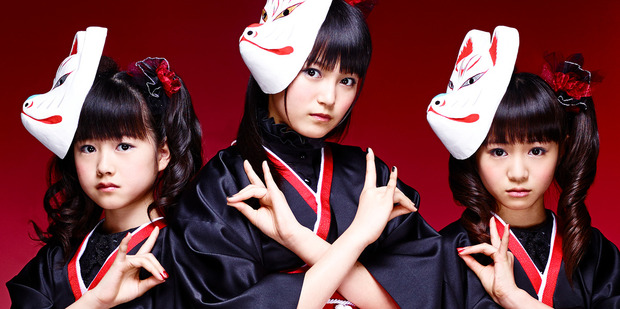 A Japanese girl group that mixes heavy metal riffage with pop choruses has confused the heck out of Americans with their US television debut.
Babymetal, who have racked up millions of views on YouTube with the frenetic genre-mashing of songs like Karate and Megastune, made their US debut on The Late Show with Stephen Colbert overnight.
The three teens performed their biggest hit Gimme Chocolate!! complete with a band dressed as ghosts and ghouls while performing choreographed dance routines.
Colbert warned viewers beforehand: "I'm not sure what I'm about to see. But I'm pretty excited about it!"
While Babymetal have been in action since 2010 and released two albums, many viewers failed to share in the presenter's enthusiasm.
Some seemed downright confused about what they were seeing.
Baby Metal? WTF...I don't know what I'm listening to, but The Late Show w/Stephen Colbert should DEFINITELY find a new musical booker..??

— Katie(Wagner)Washnok (@thektwashnok) April 6, 2016
I know what I like, and I know what I don't like, and I don't like Baby Metal. The band on Colbert.

— King Darren (@The_D_Rules) April 6, 2016
my impersonation of setphen colbert's actual reaction to #babymetal: pic.twitter.com/NRlM29wjN8

— ???? ???? (@JessKarpinski) April 6, 2016
"Is it the Mad Max War Boy playing the neon pink guitar next to Sadako from The Ring & the ghost from The Grudge?" https://t.co/tXVZ1SfQZO

— little koala. (@DEPRESSI0NISTA) April 6, 2016
Others were more enthusiastic.
Watching @BABYMETAL_JAPAN perform Gimme Chocolate on Colbert as I eat chocolate is like a sign from god I like Babymetal and chocolate.

— Scotti Edgar (@Scotti2k9) April 6, 2016
If you happened to see Colbert last night... BABYMETAL. I think I just found my new favorite band.

— Bucky Montgomery (@buckyworld) April 6, 2016
Babymetal consists of three singers Su-Metal, Yuimetal and Moametal. Their second album Metal Resistance was released on April 1.
- nzherald.co.nz