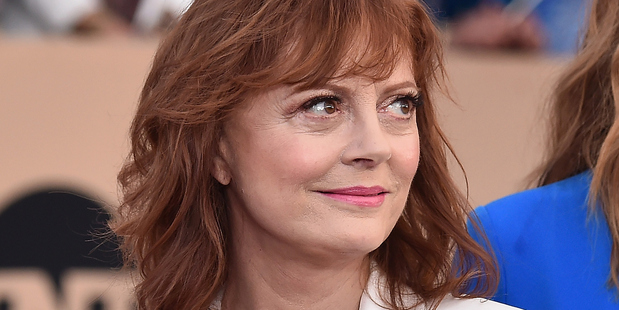 Susan Sarandon's son isn't the only one defending his mother amid criticism over her revealing SAG Awards outfit.
Fans of the US actress have slammed critics including journalist and TV presenter Piers Morgan who took to Twitter to berate the Thelma and Louise star for her outfit choice.
Very tacky, Ms Sarandon. https://t.co/GHFLRPbKna pic.twitter.com/yl5RTBIbL0

— Piers Morgan (@piersmorgan) January 31, 2016
Would Susan Sarandon wear this to a funeral? No.
It was thus horribly inappropriate for an In Memoriam tribute.

February 3, 2016
Oscar-winner Sarandon attended the ceremony in January wearing a cream suit open with a black bra underneath her blazer, leaving her ample cleavage on show.
She was there to present an In Memoriam tribute to David Bowie and Alan Rickman, who both passed away last month, and she was also nominated for her role in The Secret Life of Marilyn Monroe.
Morgan's tweet provoked fans to use the hashtag, #cleavagegate, in a barrage of boob pics tweeted in protest to the talk-show host.
@SusanSarandon I don't really have cleavage, but here's me side-eyeing @piersmorgan pic.twitter.com/OKRHliHk4D

— sibs (@penetratedsouls) February 5, 2016
If I wasn't in a dark car & had a cleavage I'd do a selfie @SusanSarandon:Today's #TBT is dedicated to @piersmorgan. pic.twitter.com/YUu4xx6j9x

— Julia Bradbury (@JuliaBradbury) February 5, 2016
@piersmorgan my turn#cleavagegate @SusanSarandon u looked gorgeous #cleavagesupport pic.twitter.com/m0QFEVayjO

— Daniela (@DanielaLica) February 5, 2016
Morgan responded to the boob spam by sharing a link to a CNN news article on him and saying:"I've always wanted to be CNN breaking news."
Sarandon's son, film director Jack Robbins, leapt to the defence of his mum, telling The Daily Mirror newspaper that she is "right to be proud of her body".
"If she wasn't 69 no one would be saying anything. It's ageist and sexist to attack her.
"She's a beautiful woman. If Piers Morgan wants to make fun of my mother and focus his energy on that, then power to him. Aren't there a million other things he could be preoccupied with than my mum's breasts?"
Morgan responded by saying that the director misunderstood his remarks."Admire any son's loyalty to his mum, but he also misses my point."

- AAP