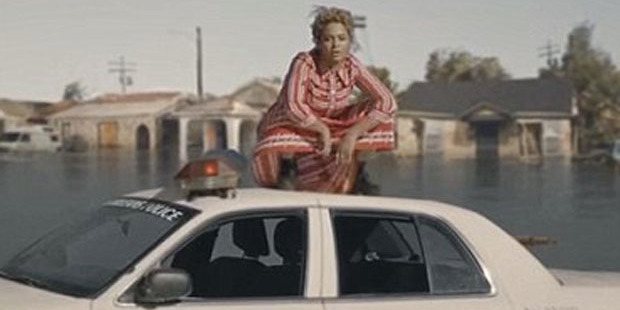 Beyoncé will perform a rallying cry for the Black Lives Matter movement at the Super Bowl a day after releasing the new song.
The 34-year-old surprised fans at the weekend by dropping a video to Formation, which features flood-ridden New Orleans and a line of white cops facing a hooded little boy.
"Let's get in formation... Prove to me you got some coordination," she chants before the camera pans over graffiti that says: "Stop shooting us."
CLICK HERE TO WATCH BEYONCE'S NEW VIDEO (Warning: Explicit lyrics)
Within minutes of the video's release, Twitter was awash with reactions to the fiercely political lyrics and scenes - and a cameo role from the singer's four-year-old daughter with Jay Z, Blue Ivy.
It was still trending worldwide as the Super Bowl - the most watched TV event of the year - approached.
Beyoncé is expected to perform Formation at half time - three years after sending shock waves around the world in her last Super Bowl performance with a backdrop sign that read: "FEMINIST."
READ MORE
• All the Super Bowl ads you need to see
• Super Bowl 50 for dummies
The video opens with a warning: "Parental advisory... explicit lyrics."
It then cuts to Beyoncé croutching on top of a flooded New Orleans police car, seemingly pointing to the state of law enforcement in Louisiana in the wake of Hurricane Katrina.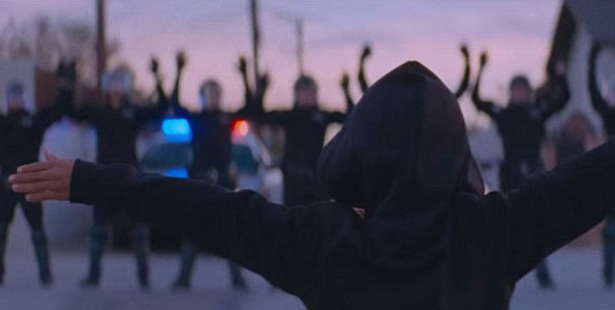 At the end of the video, the singer is seen drowning on top of the same police car. A row of police officers in riot gear also appears throughout the video. It looks like a hooded figure is running towards them. When the camera turns round it turns out to be a little hooded boy dancing in front of them. At the end, they raise their hands up in the gesture of people under arrest; the camera then turns to graffiti on the wall that says: "Stop shooting us."
Fans were also excited by the appearance of Blue Ivy, Beyoncé's daughter with Jay Z.
The adorable four-year-old looked angelic in a long white dress as she danced around with two other young girls and posed for the camera.
The content of the song is much racier than most Beyonce fans are accustomed to.
One of the more eyebrow-raising lines was "When he f*** me good I take his a** to Red Lobster, cause I slay."
Social media was abuzz after the release as several celebs weighed in with their positively glowing reviews of the surprise drop.
Perhaps the funniest post of all would be from John Legend, who posted a photo of a pensive Barack Obama on Twitter.
When you realize your dad took your mom to red lobster every week pic.twitter.com/Re7PPLmbvI

— John Legend (@johnlegend) February 6, 2016
Beyonce's sister Solange tweeted: "Y'all gonna learn bout dem children of Celestine & Mathew, lol. Slay sis, slay. And Slay niece, slay."
Beyonce definitely seems to be striking while the iron is hot as her online store was loaded with several new pieces of merchandise related to the song including hats, shirts, mobile phone cases and scarves.
The Single Ladies hitmaker may be debuting the song live for the first time on a huge stage as she was rehearsing Formation during preparations for the halftime show according to a Saturday report from Rolling Stone.
Though it has not been confirmed whether or not she will be performing it, Beyonce will be a special guest at the Super Bowl 50 Halftime Show headlined by Coldplay on Sunday night.