Patrick Reynolds, architectural photographer, blogs on urban planning website transportblog.co.nz and tutors at the School of Architecture at the University of Auckland. A self-described "impatient optimist", he thinks Auckland can be fixed.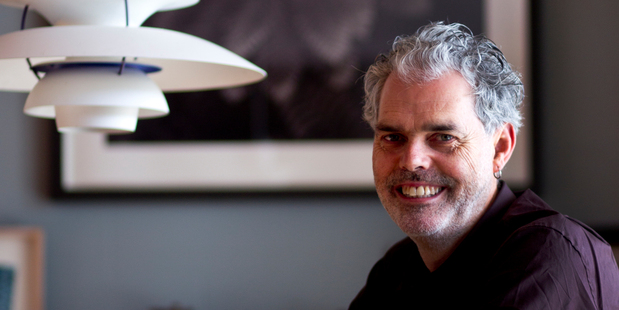 1. When did you first pick up a camera?
Late. The first summer after my last year at school my family acquired a Polaroid SX-70 instant camera and I was instantly smitten. I studied photography at Elam and I was exhibiting and then, to put it bluntly, I sold out from that career. Well, it wasn't a career, there's no career in the arts, that's why the squabbles are so intense -- there's so little at stake. I thought I oughtn't to be so high-minded and decided that I needed to use my skill commercially as well as artistically, and that's when I started my professional career in architectural photography. My parents were architects, it's a language I speak and it's a thing I'm passionate about. It's nuts though because 99 per cent of photographs you can sell are of people! When I do do portraits, I tend to photograph a room with a person in it. It's always struck me that architecture is an appropriate thing to point a camera at; I can't really help it.
2. Were you artistic as a child?
Nah, I was just a kid with grubby knees.
I grew up in Howick on the edge of farmland. My parents built the house they designed themselves the year I was born, 1962. It was a modest modernist house on a ridge-top site that overlooked a bush gully and there was farmland all around. I had a very much running-jumping-leaping-getting-covered-in-mud childhood. But also slowly throughout the 60s and especially the 70s, that gully rang out to the sound of hammers and Skilsaws as they rolled out cul-de-sacs into the valleys everywhere and thin little houses were being built. In other words, Pakuranga turned up. Without knowing it, I got an education in how suburbia moves to the countryside in the pursuit of country living, and it kills the thing it loves. You don't get country living in the suburbs. You do when you first arrive. The weirdest thing about the suburbs vs the city, is while the last one in the city has a great time, it's the first one in the suburbs who has the greatest time... and then the quality diminishes. I do remember clearly that by the time I became a teenager there were really only two activities you could do on the weekend and you would do them together -- drinking and driving... that's it. I left the day school finished. Never been back.
3.What was the house your parents built like?
My parents were both arch modernists. They were never flashy but our house had some odd qualities. The front wall was made of glass and it always baffled and frightened neighbours and casual callers because it meant they were sort of inside the house visually before they were in the door. My parents, being rationalists, believed that you should always have an exterior door opening outwards because of egress -- if there was a fire you can get out quicker. But it was hilarious in a domestic building because when we would open the door to a guest, you would have to push them back with it. With quite good reason, there's a tradition of inward-opening doors.
4. Were you aware that your family was different from everyone else's?
We did have a sense of being a little bit apart and having this slightly different set of values from outside the door, which was perfectly ordinary New Zealand. We were a bit proud of that. I remember working out one day that all my friends on the weekends were going to the beach but we were all going to drive to look at buildings. My father would bring home architectural journals from the office and I remember as a kid I would go through them. I now realise I was looking at the pictures really, but I do remember seeing pictures of places that were miles away from our front door; there was an enchantment to them. Foreign cities, proper cities -- to me they held a glamour.
5. Did you ever consider following in your parents' footsteps and becoming an architect?
No, I didn't. Once I fell in love with the camera and what it could do, I was hooked. I have five older siblings and the most important influence on me was my artist brother John, who's six years older than me. My sister's an architect in London, and I have a brother who is a designer in an architectural practice.
6. Urban planning isn't exactly the sexiest of topics, is it?
It is quite dry at times. You're never going to see an actress with her top off on our blog and even the humour is quite nerdy. It is dull, it isn't sexy -- its outcomes can be though, or more likely the reverse: it can rid a place of its va-va-voom. The outcomes of good decisions for the city are sexy, or can make for a sexier city.
7. What's the biggest crime committed against Auckland city by its planners?
Easy: the Central Motorway Junction. It's the biggest urban motorway interchange in Australasia, and it caused destruction of the urban gullies of Grafton, Newton, and Freemans Bay -- the severing of the city from its inner Victorian suburbs involving the removal of 50,000 people and 15,000 buildings. The economic fortunes of previously thriving and vibrant parts of Auckland like K Rd and Newton have never recovered; sacrificed for the convenience of those living further out to pass through. It very nearly killed the city centre permanently.
8. Beauty or function -- what is more important?
They're inseparable: it's pretty ugly for something to function poorly, and fairly useless for a thing to be hideous. The first question I ask about a building is, does it decorate or desecrate its site? If it can't get over that bar, everything else is pretty irrelevant.
9. Are New Zealanders too complacent about our surroundings?
We're certainly fortunate, and perhaps that has made us careless with both our natural and urban environments. We've not always been great custodians of the natural environment and it's just that the country is relatively underpopulated that conceals our carelessness well. With the built environment, we're almost too impressed with the setting to make sufficient effort with what we build. It's like there is an unconscious idea that all human construction is a violation and that has perversely become a licence to build any old thing. We don't, anymore, have a culture that values the quality of urban spaces, but we sure do notice once it's gone.
10. What's the key to leading a creatively fulfilling life?
Is that possible? I dunno, creative underemployment? Fine tuning of the caffeine/alcohol balance?
11. What makes you mad?
Melbourne. Where you can see the city Auckland could be now: people, trams, lanes, urbanity, but on a great harbour.
12 .What inspires you?
Possibility.