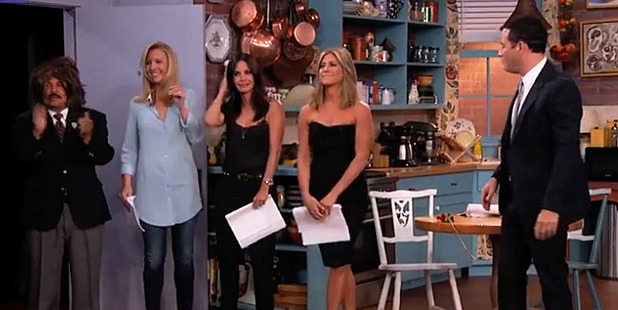 Jimmy Kimmel has been forced to admit his Friends reunion skit involving several of the sitcom's stars was scripted and rehearsed.
Jennifer Anniston, Lisa Kudrow and Courteney Cox made Friends fans dreams come true when they 'performed' the five-minute sketch on Jimmy Kimmel Live last week.
But the talk show host was forced to explain the segment was pre-planned after fans went online to complain that Aniston appeared to be surprise, "rude" and seemingly didn't want to take part.
At one point she refused to wearing a "Rachel" wig, saying she had "boundaries".
"It was acting ... everybody knew it was going to happen," Kimmel explained to his chat show audience.
"We rehearsed it backstage, it was scripted ... the whole thing ... We were clearly acting, right? For some reason, maybe half - if not more - of the people commenting online seemed to think that was real."
The segment involved Kimmel playing sitcom character Ross and involved plenty of boasting about his prowess in the bedroom.
The live one-off skit happened shortly before the 20th anniversary of Friends' premiere next month.
Other celebrations planned include a replica of Central Perk coffee shop in Manhattan from September, which will serve free drinks, offer the iconic couch for photos and even feature appearances from James Michael Tyler who played barista Gunther.
The possibility of a full Friends reunion has been dismissed repeatedly by the cast as "impossible" due to other commitments.
But Kimmel's video has been a massive hit online, scoring 10 million YouTube views.
Watch the segment below:
- nzherald.co.nz with Independent