Film-maker Gerard Johnstone says it was Morgana O'Reilly's funny, magnetic and fiery qualities that made her ideal to take the lead as the wayward Kylie in his movie Housebound. Lydia Jenkin reports.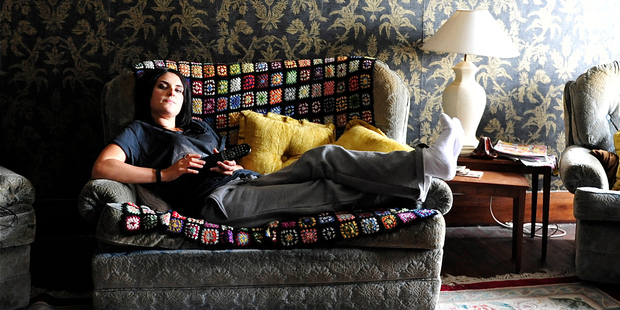 Did you know Peter Jackson's third feature film, Braindead, was originally titled Housebound? Neither did film-maker Gerard Johnstone until Jackson emailed him to say congratulations on his debut feature - also called Housebound.
"He even has some poster concepts in storage somewhere with that title on it apparently," Johnstone says.
He's very grateful for the support Jackson and his creative partners Fran Walsh and Philippa Boyens have shown him, but they're not the only ones singing the praises of Housebound.
Since debuting at SXSW in Texas earlier this year the film has won major prizes at European festivals, and came third in the People's Choice award at the Melbourne film festival this month. Rave reviews have rolled in from all corners, and New Zealand audiences were no different in their reaction during the NZ International Film Festival.
Now it's getting a theatrical release in New Zealand, with the United States following in October and Britain and Australia shortly after.
Not at all bad for a debut film made on a tiny budget.
"I had to pick an idea that could work within the budget, and I thought, well, if it was all set in one house, someone on home detention, but the house was haunted, that seems like it would be really fun. She can't leave, but how could she prove there's a ghost?
"And then on top of that, the fact that she might have to live with a mother she can't stand, that was funny to me.
Trailer: Housebound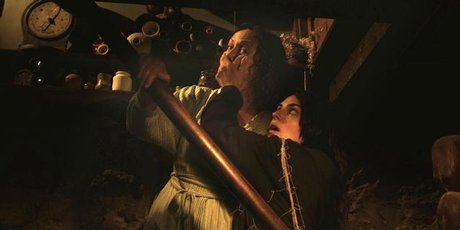 "So the genre came from the funny idea that lent itself to horror rather than knowing I wanted to make a horror movie."
Not that it's really a horror movie - supernatural comedy thriller is the phrase Johnstone uses: but "that doesn't quite work either, because it's not that goofy.
"I love thrillers like Silence of the Lambs and stuff like that, things that have you on the edge of your seat, so it was just figuring out if we could do that and imbue a sense of fun and humour into it."
Morgana O'Reilly, who plays Kylie, the wayward young woman on home detention, agrees. "One of the reviews from SXSW said it was funny not because it takes the piss out of horror movies, it's just funny because the situations are funny and the characters are funny. I think that's a good point - it's a horror movie with comedy in it, not a spoof."
That key element of humour can be attributed to Johnstone's experience as the creator of The Jaquie Brown Diaries, as well as O'Reilly's natural charisma, and the way Kylie's part is written.
"I really loved how generally pissed off she is, and how stroppy she is," O'Reilly says. "It took me a while to work out how to handle her because in a way she's a little bit too dangerously close to my deepest, darkest side, and playing her actually put me in a really awful mood while we were shooting because I was tapping into that side of myself. I had to watch out because I didn't want the whole crew to think I was a complete wanker.
"But once I learned how to harness it, she was really fun to play."
"Also, Gerard is really good at writing those witty one-liners that sit in a really Kiwi sensibility in terms of the humour, but carry through to a really genre-based, almost American style. He's written some classic one-liners in this that you can quote, he's very clever like that."
Some favourites (that don't give the plot away) include: "You can't punch ectoplasm", "He's a cabbage in a polar fleece" and "Gosh, that's high-tech isn't it. Aren't you lucky Kylie, having all that fancy technology on your foot?"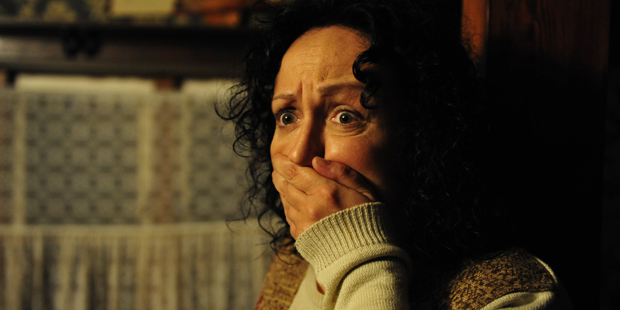 Comedian Rima Te Wiata turns to horror in her Housebound role as Kylie's mother, Miriam.
It also includes the best use of a clothes hamper and a cheese grater that we've ever seen.
There's a self-awareness to Kylie's character which genre fans will find refreshing, too - she's certainly not your usual thriller heroine, or victim.
"That was born out of watching those movies where you're always yelling at the screen going: What are doing? Why are you going down there? We've seen this a million times, are you really going to do that?" Johnstone says.
"Kylie was definitely a character born out of that, someone who wouldn't react the way every other horror or thriller movie character acts."
Johnstone knew he wanted O'Reilly to play the part even during the early script-writing phase, having worked with her briefly on The Jaquie Brown Diaries and having seen her on stage many times.
"She was always incredibly funny, magnetic, fiery. She has these great eyes; she can kill with a look, and I thought that was perfect for Kylie.
"Kylie's that troubled girl you knew when you were a kid - that you just didn't want to cross, but at the same time there was also something really attractive about that. So that was where the idea for Kylie came from, and I knew Morgana could do it."
The inspiration for Kylie's mother, Miriam, also came from someone he knew as a kid - his own mum, "although my mum doesn't believe in ghosts and she's not casually racist".
He didn't have a clear idea for the right person to play Miriam, but when acclaimed comedian Rima Te Wiata auditioned he knew he'd found her. "I remember Rima from sketch shows in the 90s, and I remember thinking she was a huge talent. She's a top comedic actress but there hasn't really been enough work for her on screen in recent years. Anyway, when she came to the audition I could immediately see she'd bring something great to the role, so it was a real no-brainer."
O'Reilly agrees that she was enormous fun.
"Rima was awesome, right from the first day. It was great to work with her. We have a very similar sense of humour. She's crazy and wonderful and I love her dearly."
You wouldn't know it on screen of course - they got the frustrated mother-daughter dynamic just right.
"We've both got mothers I guess," she says. "Not that my mother is anything like that, but they're very well written. Gerard had a great handle on that relationship."
If the casting was remarkably straightforward, the rest of the creation process was somewhat fraught. The project was born out of the Film Commission's Escalator scheme, which gives four grants of $250,000 a year to up-and-coming film-makers, based on the first draft of a script.
"Initially 12 teams are chosen off a one-page idea, and then to be chosen for the final four you turn that one page idea into a full script within about three months," Johnstone says. "That seemed achievable at the time, but when I actually started doing it I realised how huge it was.
"It was a murder mystery and I wanted to make something that was really complex, constantly pulling the rug out from under people, with this hugely satisfying pay-off. I wanted to make the greatest movie I'd ever seen, but it just seemed completely beyond me."
He did eventually finish the script, and despite reservations about not having fully developed it, he dived into filming it. But that proved to be a tough experience, as Johnstone only realised as he went along how badly some of it would turn out.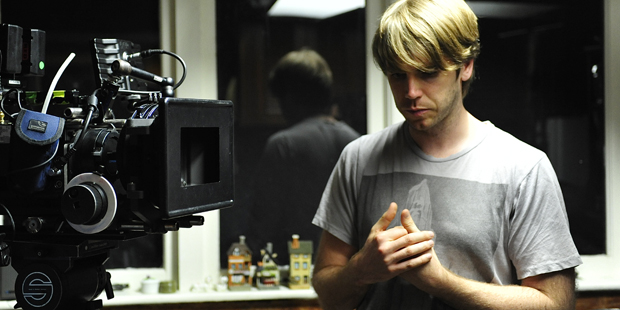 Gerard Johnstone received rave reviews for his work.
However, some of it turned out great and he decided that with a few rewrites, some pick-ups, and some judicious editing, there was a decent film in there.
"The good thing was that the time between shooting gave me a chance to actually go back to school on the genre of suspense thrillers and horrors and figure out how to make the film breathe, and find some soul, and make sure it wasn't just people walking into rooms and saying snarky things, and witty comebacks."
That underlying soul is indeed a key part of the film's appeal - the development of Kylie and Miriam's relationship gives the film an emotional pull, even as things turn to hilarious chaos as the film reaches its climax.
"I wanted to make a horror film that would have as broad an audience as possible, so it's very much a horror movie I could take my mum to. There's so much room in the pantheon of horror movies and so many different shades of it. A lot of people will say, 'I don't like horror, I don't want to see it', but I'm hoping that people can see it's much broader than that."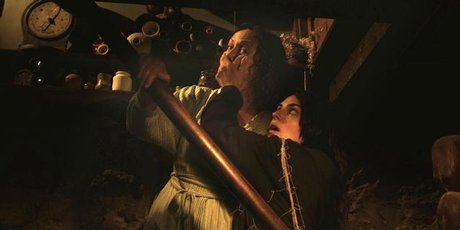 Horror stories
Housebound follows a long tradition of local up-and-coming directors turning their hands to horror, with an occasional comedy sideline. Some past notables include ...
Bad Taste (1988): The DIY alien invasion horror which kicked off the career of Pukerua Bay's very own P. Jackson in splattery style before he went on to Meet the Feebles, Braindead, and some other movies, the titles of which escape us.
Scarfies (1999): More a psychological thriller than a horror, but the film by Robert Sarkies (Out of the Blue, Two Little Boys) which starred a young Taika Waititi among its cast of Otago students still had plenty of dark basement chills, with its tale of dope dealing and kidnapping.
The Ugly (1997): The debut feature of Scott Reynolds about a serial killer and his psychiatrist was more gothic than comic.
The Ferryman (2007): Chris Graham followed up his feature debut Sione's Wedding with this tale of a high-seas bloodbath whose eventual victims included John Rhys-Davies and Kerry Fox.
The Irrefutable Truth About Demons (2000): Karl Urban had one of his first feature leads in Glenn Standring's tale of academia and a sinister cult.
Black Sheep (2007): Jonathan King's feature debut was this Jackson-influenced splatter comedy of mutant mad sheep turning on the owners of a farm.
The Locals (2003): Debuting director Greg Page sent a couple of Auckland mates into the deepest darkest parts of the Waikato where the dead walk the earth. Just outside Hamilton, we think.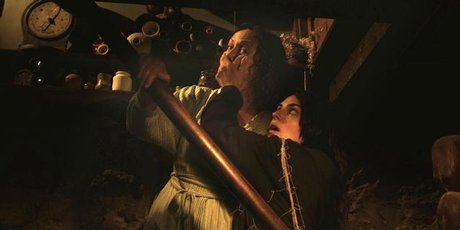 Who: Film-maker Gerard Johnstone and actress Morgana O'Reilly
What: New Kiwi film Housebound
Where and when: In cinemas from Thursday, September 4
- TimeOut