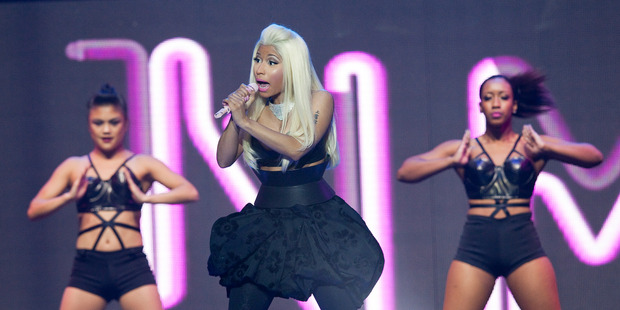 They gave us the Britney/Madonna pash, the Kanye stage-jacking and that infamous foam finger.
But what will MTV's Video Music Awards deliver this year? And could anything EVER top Miley?
Aussie band 5 Seconds of Summer have promised to dethrone Miley as the VMAs wildest performers ever, threatening to hit the stage in little more than a sock.
But all jokes aside, Nicki Minaj could well light up the complaints line if she recreates her scandalising Anaconda video.
The sexually-charged video sees a scantily clad Minaj writhe around like a serpent as she twerks uncontrollably.
Less likely to shock are Beyonce, Taylor Swift and Ariana Grande, who are all booked to perform.
Queen Bey leads the nominations heading into this afternoon's awards, with eight nods. Closely followed by Iggy Azalea and Eminem, with seven nominations each.
Homegrown hero Lorde will be in attendance, presenting an award and nominated for two Moon Men: Best Female Video and Best Rock Song.
The Royals singer Tweeted her surprise at being nominated last month, calling herself the black sheep of her categories.
OMG i am the black sheep of both my categories hahahaha

— Lorde (@lordemusic) July 18, 2014
whether we win or not, it blows me sideways that a video starring my friends, my train platform & my game arcade could even be up for a vma

— Lorde (@lordemusic) July 18, 2014
The 17-year-old will face off against Beyonce, Katy Perry, Iggy Azalea and Ariana Grande.
Follow all the action from the MTV VMAs here after midday.