After a turbulent few years — and a spat with Miley Cyrus — Sinead O'Connor is back on top. She talks to Neil McCormick about how music saved her, and why she prefers baldness.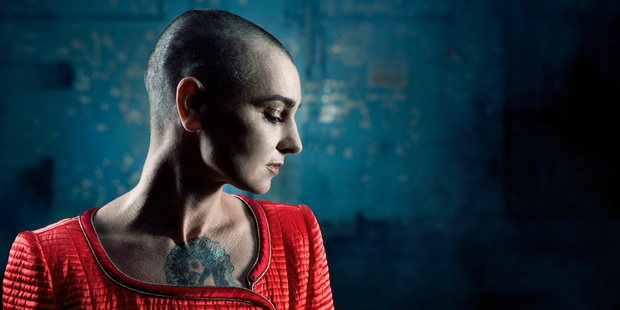 The first thing you notice about Sinead O'Connor, even after all these years, is her hair - or rather, the lack of it. The Irish singer recently released a series of photographs to promote her new album, I'm Not Bossy, I'm the Boss, in which she is barely recognisable in a glossy wig and a figure-hugging black dress. But when I arrive to meet her at a London studio, she is sitting on the doorstep in the sun, smoking a roll up, dressed in sloppy T-shirt and shorts, her many tattoos and shaven head once more exposed. At 47, she still looks more like a teenage runaway than a veteran international pop star.
"It's kind of fascinating what hair can do," she says. "But I don't think anyone seriously expected me to keep that up. I just did a video, six hours in a wig and latex dress, I was sweating, it was disgusting. I discovered really why I haven't dressed like a girl more often. The upkeep would be awful."
Her motivation for scrubbing up was simple. "I wanted to remind people what it is I actually do, and I knew those pictures would go around the world in an instant."
O'Connor has had a turbulent few years, during which her private life has attracted more attention than her music. There have been mental health issues, a short-lived Las Vegas marriage in 2011 to a therapist she met on the internet, a suicide attempt in 2012 that she later blamed on the side effects of mood-stabilising drugs she was taking for bipolar disorder, a cancelled tour that same year, a split from her long-term manager and last year's public spat with Miley Cyrus, in which O'Connor accused the young American star of pimping herself out for the music business and Cyrus dismissed O'Connor as crazy.
Today, perhaps unsurprisingly, O'Connor is reluctant to talk about any of those things.
"I'm conscious of keeping the focus on music," she says. "Everything else is a distraction.
The media still do this 'Crazy Sinead' thing. You are treated as dangerous if you speak out, because the whole establishment that we live in depends on everyone buying into this idea that material things rather than spiritual things represent success. That's definitely something I would like to change."
She admits, however, that her argument with Cyrus inspired her temporary new image. "I learnt something very important from all of that: you get a whole lot of publicity if you sex yourself up. There was no noble thought behind it."
O'Connor's distinctive image was established aged 19, after her record company suggested she change her punky, tomboy style and lose the Mohican hairdo. "They took me out to lunch and said they'd like me to start wearing short skirts and boots, grow my hair long and do the whole girl thing. What they were describing was actually their mistresses. I pointed that out, which they didn't take terribly well. So I went to this Greek barber in Westbourne Grove, only a young fella, and he didn't want to do it, he was almost crying. I was delighted with it. I don't necessarily fit into the moulds that it seems females are supposed to fit into. I'm kind of irregular. My own hair is unruly. I feel more like me with it shaved."
O'Connor's very first album - The Lion and the Cobra, released in 1987 when she was 21 years old - made her a sensation. There was something strikingly original about the contrast between her elfin beauty and skinhead image that mirrored the combination of emotional vulnerability and fierceness in her singing and songwriting. Her 1990 follow-up album, I Do Not Want What I Haven't Got, was a worldwide number one, selling seven million copies, driven by her version of an obscure Prince ballad, Nothing Compares 2 U.
She famously cried in the video that accompanied the song's release and will still often find herself in tears when she performs it live. "Oh God, some songs, if I even think about them I cry," she says. "I go to sing them and I have to run out of the studio."
The tears shed in Nothing Compares 2 U were triggered because, she says, she associated the song's lyrics of love and loss with her mother, who was killed in a car accident in 1985. The two women had always had a complex, abusive relationship.
(O'Connor's brother Joseph, an acclaimed novelist, has described their mother as "a deeply unhappy and disturbed person", responsible for "extreme and violent abuse, both emotional and physical".)
The situation was exacerbated after O'Connor's parents separated in 1975. Her teenage years were troubled, marked by truancy and shoplifting, and at 15 she was placed in one of Ireland's now notorious Magdalene Asylums, the Grianan Training Centre run by the Sisters of Our Lady of Charity. She has previously described the experience as being full of "panic, terror and agony" but she also believes it saved her from an inevitable downward spiral towards jail. "The nun that ran the place got me my first guitar, and a guitar teacher. I always say, if you live with the devil, you find out there's a god".
These days, after decades of scandal and revelation, the problem of institutionalised child abuse in the Catholic Church is openly discussed, but when O'Connor first started speaking out on the subject, she was demonised. In 1992, she effectively derailed her international career by tearing up a photo of the Pope live on prime-time American television.
"There was no therapy and no talking about these things, that was the way it was at the time. I believe that myself and Roseanne Barr were the first so-called victims of abuse to talk about it openly, without being in shadow, and that was quite uncomfortable for people. When you grow up with abuse you are voiceless, you feel you could die in that house and no one would ever know, so the voice becomes dreadfully important, it's about standing up for yourself."
However, she adds, "In abusive situations you learn to manage things by using your creativity. Ours was a very literary house, and Ireland is a very creative environment. I think we were really lucky, put it that way, because a whole lot of families wouldn't have had that to fall back on."
"I never wanted to be a pop star. I was in music because I had to recover, I had to get all the shit off my chest. The artists I loved, growing up in the 70s, were very intimate, they were writing about painful emotions," she says. "John Lennon was a huge role model, that's the first music I can ever remember hearing. And I adored Bob Dylan, he doesn't hide the nasty parts of himself. The thing that changed the plot for me was hearing Idiot Wind, it was like, 'my God, music is a safe place where you can put all the stuff that you're not allowed to say anywhere else'. It meant I didn't have to be nice in songs, I could be angry, I could be ... whatever. The truth is, I was carrying such pain that you couldn't have borne it without getting it out. And there's no better way than running around the world, screaming down a microphone."
This year she has headlined the Womad and Cambridge Folk festivals and will be touring in Britain before appearing at the Christian Greenbelt festival at the end of this month.
"My strong suit is live, it's what I do and what I love. One of the things that pleases me about the direction music has gone is that we are sort of forced more into playing live to make a living, and I think that's good, 'cause otherwise, why are we here?"
Whatever her reputation, in person, she is warm, open, surprisingly bashful and, while evidently still in possession of powerful convictions, no longer intent on attacking the world with them. Her new album is up there with her best. Produced by long-time collaborator (and former romantic partner) John Reynolds, it investigates and celebrates the complications of love and relationships in a collection of songs that balances an atmospheric, rocky impulse with deep, romantic feeling.
"There's a very fine line between corny and cool when you are writing a love song," she says. "I've been obsessed with Chicago blues, funky happy blues, a lot of artists like Elmore James, Guitar Slim, Howlin' Wolf, Magic Sam, Freddie King. I wanted the record to have a feel of what they were doing guitar wise, and I learnt a lot from what people like Willie Dixon, Buddy Guy and Chuck Berry had to say about songwriting. Dixon talked about not sugar-coating the facts of life, even the happy stuff. I was very excited about putting it in my own way. So it's not a blues album but it's very influenced by the blues."
There are flashes of the old anger and pain on some tracks, notably Harbour and 8 Good Reasons, but they are tempered with optimism. "The stuff I had to get off my chest when I was younger, well, it did get off my chest, so the platform from which I write has changed."
In recent years, she says, she has been creating character songs, and has a fully developed narrative for her album of an "everywoman" portrayal of romantic entanglements, although she will concede there is a lot of herself in there. Her own love life can seem particularly knotty; she's had four children by four different fathers.
"Joseph describes what I write as 'faction', but you can be slightly freer with characters than you can with yourself. You can protect people that way. The one I'm most like would be the very mischievous woman in Kisses Like Mine, who is running around adoring everybody and isn't the keeping kind. I don't think that's a bad thing."
The vocal production is fantastic, with melody lines created out of a blend of O'Connor's overdubbed harmonies, a chorus of voices combined into one. "Within every woman, romantically speaking, there's a zillion different types of women, and I was trying to create that effect by layering. I love singing and I'm crazy about harmonies. This is why I do what I do. I just want to pay my bills making music."
I'm Not Bossy, I'm the Boss is a reminder that O'Connor is one of the most striking and individual artists working in popular music. That is what she would like to be known for. Not that she is embarrassed about her reputation for controversy. "I'd be embarrassed if me knickers fell down in Tesco, but by the nature of what singers do, we go into a studio and squawk like cats and get everything wrong before it forms into a song that actually sounds good, so you're used to making your mistakes in front of people. I accept all the parts of myself equally. But it would be nice to steer the focus back on being a musician."
I'm Not Bossy, I'm the Boss is out now.