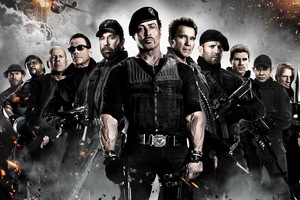 Film studio Lionsgate has won a restraining order to stop the climbing number of people illegally downloading Expendables 3 before it hits cinemas.
Well, temporarily, anyway.
According to industry website Deadline.com, Lionsgate has won a temporary restraining order against the people running torrent sites, which are accused of circulating the leaked action flick, including limetorrents.com, billionuploads.com, hulfile.eu, played.to, swankshare.com and dotsemper.com.
And if they don't stop making The Expendables 3 available, they could have their bank accounts seized, according to the report.
On July 24, Lionsgate reported in its lawsuit that a high-quality version of the film had been stolen and put on the internet.
They later went onto reveal in a follow-up motion that Expendables 3 had already been downloaded 2.1 million times around the world.
"Lions Gate has established that it will suffer irreparable harm in the absence of immediate relief," US District Judge Margaret Meadow said in the six-page order.
In the temporary restraining order the anonymous operators of the sites targeted cannot host or link to the film, contribute to the infringement of the film in any way or move the registration of their sites.
Meadow also gave Lionsgate the power to essentially freeze bank accounts, by contacting banks, payment processors and advertising service providers about the matter.
The temporary order is valid until August 8 and the websites will have until then to prove why it shouldn't be made a permanent injunction.
- AAP