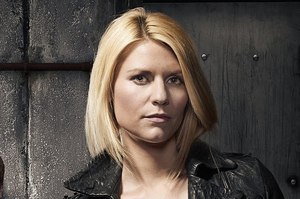 The trailer for the fourth series of Homeland has been released, showing an ever tense Carrie Mathison back in the field.
The one minute teaser begins with Carrie holding her baby before cutting to her on assignment in Pakistan, where she continues to cause havoc and enrage her colleagues.
The dramatic trailer also shows scenes of explosions and civil unrest in Pakistan, where the new season is set.
The teaser ends with Saul looking knowingly at Carrie, telling her: "Happy hunting".
Season four will not see Sgt Brody return to the series after Damian Lewis announced his departure last year.
Brody's troubled daughter Dana will also not make an appearance in the forthcoming season, with showrunner Alex Gansa confirming she would "probably not" ever appear again.
"[Sgt Brody] was a character people loved to hate and hated to love. It's someone who we miss on set every day. And I can say that Dana Brody will not be back for season four," he told the Television Critics Association summer press tour last week.
Gansa also said the series will see Carrie become more mentally stable - until the next love affair leaves her feeling jittery and paranoid, that is.
"I think emotionally she has stabilised and the mental illness we have dealt with, she has now dealt with," he said.
Watch the trailer for Homeland season 4 below:
- Independent