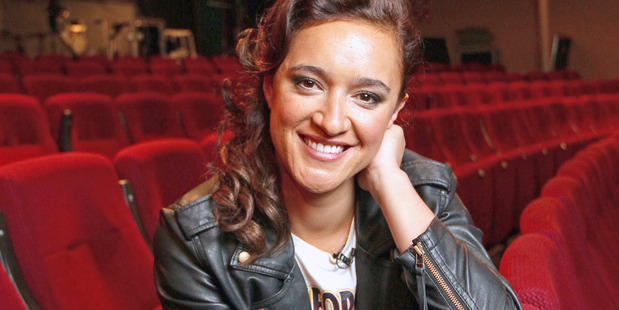 Whale Rider star Keisha Castle-Hughes will pay tribute to the film that catapulted her to international fame during a visit to New Zealand this week.
The Los Angeles-based actress flew into Auckland on Friday morning to co-host a Kiwi variety show, but seven-year-old daughter Felicity Hull will also get some quality time with mum when the pair attend a stage production of The Whale Rider at The PumpHouse Theatre in Takapuna.
Castle-Hughes earned an Academy Award best actress nomination aged 13 for her starring role in the the film adaptation of Witi Ihimaera's book.
The 24-year-old is in New Zealand to co-host live variety show Happy Hour with Temuera Morrison. The show, which includes music, sketches and acts by what Castle-Hughes described as "old pros and new talent", opens at the Mercury Theatre in Auckland tonight.
The variety show's publicist, Sally Woolfield, said the actress told her she planned to use her free time to take Felicity to the stage version of the film that made her famous.
"She said she's really excited to be taking her daughter."
A relaxed Castle-Hughes told the Herald on Sunday yesterday that she was also looking forward to being part of Happy Hour, especially working with Morrison and other Maori performers. Four shows are planned this week, with the televised footage appearing on TV1 later this year.
"It's nice to be working on a show where there's lots of brown faces on the stage."
Castle-Hughes said Felicity lived in New Zealand with her father, Castle-Hughes' ex-partner Bradley Hull. Castle-Hughes married DJ Jonathan Morrison on Valentine's Day last year and the pair moved to Los Angeles together soon after, but Morrison has since returned to New Zealand.
He was at Auckland International Airport to greet Castle-Hughes with her favourite coffee — a flat white — on Friday, Castle-Hughes said.
"It's been really lovely being home and seeing my family. (Felicity) is very happy, as am I. It's so good with Skype now, but it's nothing like ... getting a hug."
Castle-Hughes has just finished a busy pilot season in the United States but found there were not many roles for her age and has been working on a movie script between acting.
"I just did pilot season, just to establish myself there. It takes time. I'm happy I made the move ... people always say that Los Angeles is the place of the doers and dreamers. There's something really special about people constantly doing stuff."