Dominic Corry has found an Australian film everyone needs to see.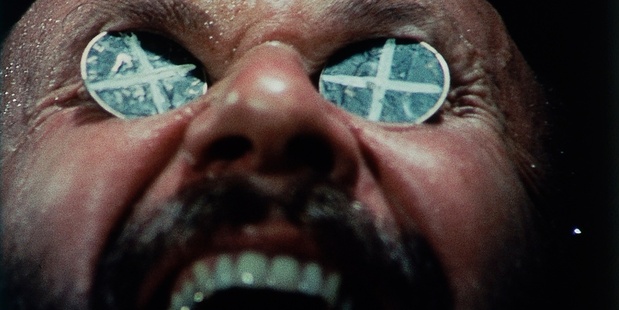 I've said it before and I'll say it again, I bloody love Aussie movies. And I've just seen a doozy.
I'm admittedly a little late to the party on this one - I'm sure many of you don't need to be alerted to the existence of the film in question, but it had such a profound effect on me, I simply had to write about it anyway. Anyone out there who has yet to discover it is in for a treat.
Released in 1971 to little success (although it did play in competition at Cannes), Wake In Fright subsequently fell through the distribution cracks, and remained unseen for many decades until a print was discovered in 2004.
The film was restored and released on DVD in 2009, and it also played at festivals. Including ours. I was out of town that year. Drafthouse Films released a 40th Anniversary edition in 2012, and it recently got a cinematic release in the UK.
The subject of much acclaim amongst prominent filmmaker nerds (you know, the guy with the chin, amongst others), the film has been rightly heralded as a "lost classic". And I finally got around to watching it on the weekend. And wow.
Based on a 1961 novel by Kenneth Cook, the film tells the tale of John Grant (English actor Gary Bond), a young teacher at a tiny remote outback schoolhouse.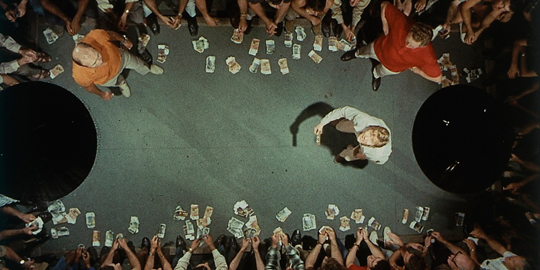 A scene from 'Wake In Fright'. Photo / Drafthouse Films
When the school closes up for Christmas, he catches a train to the mining town of Bundanyabba, where he must stay overnight before flying to Sydney to be with his beloved.
Heading out for a beer at the local pub, Grant's first encounter is with aggressively friendly cop Jock (Chips Rafferty) who insists on buying him some beers. A lot of beers. Jock then introduces Grant to a backroom gambling den, where miners bet their wages on coin tosses. It is here Grant first encounters "Doc" Snyder, played by the one and only Donald Pleasance (Halloween 5: The Revenge of Michael Myers).
From this point onwards, Grant spirals into a drunken series of events that makes Martin Scorsese's After Hours look like a Sunday picnic. Far from a victim however, the pretentious Grant is the willing driver of his own doom, from which he could easily extract himself at various points.
This utterly enthralling film is jam-packed with the kind of Australian males that seem cro-magnon from a modern perspective - they range from oppressively genial older men to full-on raging id monsters (one of whom is played by a jarringly young Jack Thompson).
The drinking culture portrayed is extreme and often funny, but more often worringly familiar. Grant's journey drives the film, but everything around him is just as vivid.
I will see any film that casts Donald Pleasance as the local nutjob, and this is one of the incredibly prolific actors most searing performances. Indeed, practically every person encountered by Grant in the film is equally hilarious and disturbing.
One not-so-hilarious-but-very-disturbing section of the film uses footage from an actual kangaroo cull. The inclusion of the controversial, difficult-to-watch footage was justified by director Ted Kotcheff as being supported by The Australian Society for the Prevention of Cruelty to Animals.

A scene from 'Wake In Fright'. Photo / Drafthouse Films
Kotcheff (a Canadian) incidentally went on to direct First Blood and Weekend At Bernies. Elements of both films can be found in Wake In Fright.
Nick Cave is a big fan of the film, he called it "the best and most terrifying film about Australia in existence."
He may be right on both counts, but it's also very, very funny.
*Seen Wake In Fright? Gonna? Comment below!