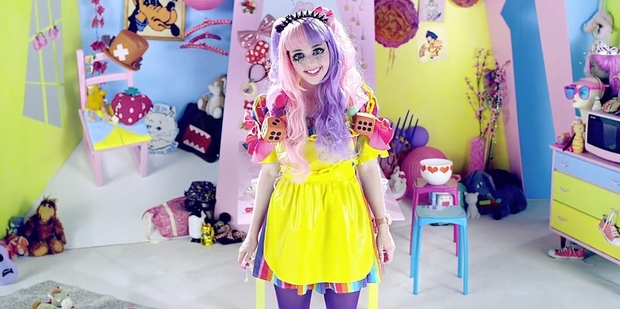 New Kiwi pop sensation Indira Force reckons it was well worth spending four hours a day in the makeup chair to look like a creepy Japanese doll.
The colourful singer fronts rising indie duo Doprah. Their new single, Stranger People, is tipped by US music magazines to be huge.
To resemble a Japanese anime character for the wacky video, Force, 20, had giant false eyelashes and "crazy" purple contact lenses fitted.
"Makeup was under way by 7am every day and I had little gold chains glued to my fingernails, which caused me a few hassles," the music student from Christchurch said. "They were so awkward I had to get help to go to the toilet.
"The results were fun but very creepy, which is what we wanted. The look is certainly attracting attention."
Doprah counts Lorde in its growing band of fans after the duo supported the Kiwi superstar at a post-Grammy gig in Auckland in January.
"Lorde has mentioned how she likes our music in a few interviews and that has really helped get our name out there," Force said.
"It's fantastic to have such a high-profile supporter."
Doprah like to tell fans they are named after "a sinister and evil cult which lures young people into drug-taking", but Force said there was a much more innocent explanation.
"When we were looking for a name, we kicked about a few celebrity puns. Doprah is a play on a Twitter hashtag we saw, where someone was having a go at Oprah Winfrey for doing something stupid. Doprah sounded catchy. It is just a bit of fun."