Paul Casserly is getting good scares from two new horror shows on telly. Get ready to get scared by Bates Hotel and Penny Dreadful, he writes.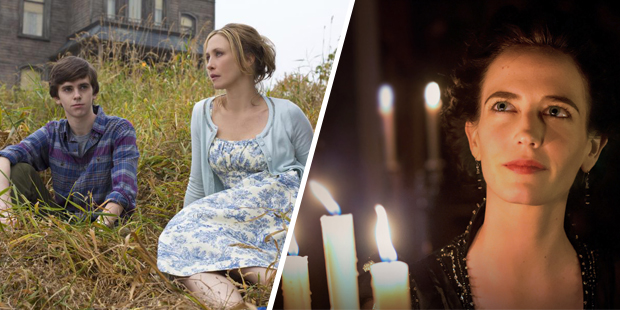 I'm loving all the horror at the moment. Not the real stuff, like the depressing chickens roosting all over in Iraq, Syria and pretty much everywhere. That endless war of empires and terrorists is creating shades of grey that only dogs can see. (This two-minute BBC Newsnight clip does a good job of explaining some of the complexities at play.)
We dreamed of jet packs and got drones for our trouble, one even killed a Kiwi, though somehow he has yet to have his story told. Given the almost pathological need we have to attach ourselves to any disaster in the world, looking for Kiwi bodies in anything that looks like rubble, this is a glaring oversight, a perplexing mystery.
Throw in global warming, and John Key or Kim Dotcom - depending on your politics - and it's enough to make you cry. I am not however one of those who think that the world is getting worse to the point of imminent implosion.
Many of us have never had it so good. The most common cause of death for men my age a hundred years ago was violence, now it's from sitting on the couch. I call that progress. Pass the chips.
Still, death and destruction call to me from the TV and I'm loving it. Game of Thrones ramped up the bloodshed this season with head-popping delight and even had me thinking of Obama's drones via those collateral burning dragons. "Sorry I burned your daughter bro!" Daenerys almost said. Clearly she is meant to be a Neo Con, hoping to free the slaves without any understanding of how they live. She's actually Donald Rumsfeld!
Post this Monday night treat (although it's just starting for those of you watching on Prime) I find myself drawn to Bates Hotel, the horribly fantastic new iteration of the Psycho story that just started showing on Soho (season two just finished in the states).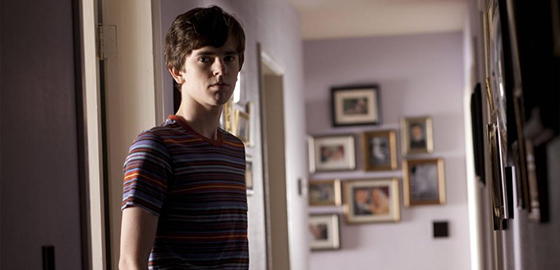 Freddie Highmore stars as Norman Bates in 'Bates Motel'. Photo / A&E
The opening episode was full of bloody horror and challenging home renovation. There's mummy dearest of course, Mrs Bates, or Norma, played by the alluring Vera Farmiga - the beauty who made George Clooney wake up to himself in the brilliant Up In The Air.
There's Norman himself, played by the spooky Freddy Highmore. The poor boy is a bookish sook made into a pressure cooker of rage by being hen pecked by the world's most overbearing and manipulative mum. Rarely has familial dysfunction been so effectively portrayed outside of GoT or even Coronation Street. Fans of the latter will see a bit of Gail and David Platt at play here.
Like Fargo, Bates Motel, does not, at least not yet, sully the name of the original, but expands on it, using it for it's own ends. The makers claim Twin Peaks as the major influence but there's nothing here that comes close to the subtle humour or nuanced nastiness that Lynch and Frost were capable of. Still, I like it a lot.

Vera Farmiga and Freddie Highmore star in 'Bates Motel'. Photo / A&E
Showtime's Penny Dreadful is darker, literally. It encourages viewing in a dark room for best results. This is Jack the Ripper era London after all. Evil lurks in the shadows of this gothic goody bag. And again, it's the alluring leading lady that draws you in. Eva Green who was the 'Bond Girl' of Casino Royale, is the star, and she is lapping it up playing Vanessa.
There is sex, although it's a full 7 minutes in before Josh Hartnet, playing Ethan, a travelling cowboy carnie, hooks up with a groupie for a post-show root. "I will never forget you", he lies to her as he bids her farewell. "Perhaps you would like to know my name then?" she retorts. I guess you could call that feminist commentary. Soon he's recruited by Vanessa (Eva Green) for something that sounds unspecified but terrible. "Is it murder?" he asks. "Does it matter?" she says.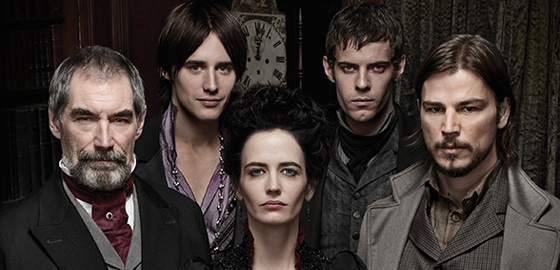 The cast of Penny Dreadful. Photo / Showtime
Murder, butchery, incantations, poetic frenzies, another James Bond survivor even - Timothy Dalton plays her dad - Penny Dreadful almost makes you laugh as it lays it all on, almost threatening to be Hunderby, but it somehow works it's magic.
Perhaps I'm just taken by the way Vanessa throws around words like "demimonde" and scares budgies when she nears their cage. Great at Scrabble but a little evil. Tick, tick.
"What do you seek to escape?" asks Ethan towards the end of the first episode, "Perhaps the same thing you do. We all have our curses don't we." I feel an extended spell of escapist horror coming on, as I slowly kill myself on the couch, drowning out the sound of the drones.
* Penny Dreadful. Thursdays, 8.30pm, Soho (starts this week). Bates Motel. Thursdays, 9.30pm, Soho.