Hayden Donnell takes in day three at E3 in Los Angeles.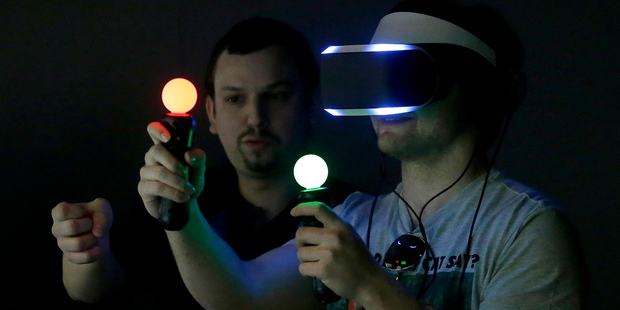 If I had to pinpoint the time I realised I wasn't ready for virtual reality gaming, I'd say it was when my street luge was sucked under a truck's wheels. I'd already crashed into three cars, careered into some road works and steered out of a low speed collision with a road cone. The truck came up the hill too fast, negligently ignoring the possibility of a man on a luge hurtling toward it. Tyres filled my field of vision.
The luge is one of a few games Sony is showing off on the new virtual reality hardware it has dubbed Project Morpheus. Sony is pitting its Morpheus headsets against Occulus Rift in its battle to be at the forefront of 3D virtual gaming, which many believe will be a huge new market in the near future. From what I saw, and what I've heard of Occulus Rift, that future may be very near indeed. My luge ride, which I controlled using head movements while seated in a bean bag, felt real enough to induce slight motion sickness.
Graphically it's not 100 per cent, but it's tough to quibble over stuff that just a decades ago would have only been thought possible on Star Trek.
COOLEST CAMPAIGN
Many of the games on display at E3 prominently feature multiplayer, whether cooperative or competitive. The Order - 1886 is quite refreshing for doing the opposite. Its aim is to take a strong premise and build it into an impressive, story-driven single-player campaign.
You play the part of Sir Galahad, who is starting to question the 'unseen war' he and other knights of the Order have been fighting for centuries in defence of mankind.
The action takes place in an 'alternate history' set in London in the titular year. Famous names from the time will make an appearance. Tesla is confirmed as a man behind some of the Order's weapons, including the graphite rifle I was using to burn my enemies to death in the demo. I asked whether Jack the Ripper would be in the game, seeing as some if the action takes place in Whitechapel. Gavin Russell, the game's Europe producer told me he could neither confirm nor deny the Ripper would be there but 'it would make sense if he was'. So he'll almost definitely show up.
MOST HORRIFICALLY VIOLENT
A stunned fighter was disembowelled, his heart dangling on a vein in an open chest cavity. While he swayed on his knees, his face was cut in half so that freshly sliced brain oozed onto the ground. The crowd erupted in cheers.
Needless to say, Mortal Kombat X is shaping up as one of the most graphically violent fighter games of all time. The gameplay I saw built on what was available in previous offerings, with a few new wrinkles thrown in, such as the ability to use the things strewn around the arena - from a box to a body - as weapons. New characters include Cassie Cage - the daughter of previous fighters Johnny Cage and Sonya Blade - and Ferra/Torr, who is actually a mouthy imp rising atop a brutish hulk.
The gameplay looks great but fatalities are still the star of the show. You'll get to do the one I described earlier if you beat Sub-Zero with Scorpion. Enjoy.
SURPRISINGLY GREAT
Shadow of Mordor takes place after the end of The Hobbit movie and before the start of The Lord Of The Rings. You play a ranger who has to battle to overcome the mustering forces of Sauron.
That may sound as boring as a dwarf song to some. But the game is great. It was a lot of fun seeing my ranger bounding around on wild animals, using his bow to mow down orcs in bullet time, 'dominating' his vanquished foes and commanding them to betray their black-blooded captains. I was shocked by how much I wanted to keep playing.
Read more:
• Day 1: Highs and lows of a gamer's paradise* Hayden Donnell will be covering E3 throughout the week.
• Day 2: Monsters, cars and creeps at E3
- nzherald.co.nz