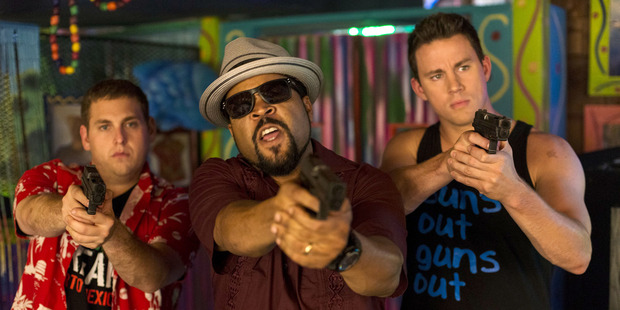 22 Jump St picks up from where the comedy movie version of the 80s TV show 21 Jump St ended, and happily recycles the formula that worked so well in the original.
In fact, there are plenty of jokes woven into the story about sequels never being as good as the original. For all the fun had with this, it's not true here; crime fighting officer duo Schmidt (Jonah Hill) and Jenko (Channing Tatum) are just as good second time round.
There's no need to have seen the original film -- a quick montage summarises what happened last time when these two underachieving cops were sent undercover to high school to infiltrate a drug ring. It's what they do here as well, although this time to MC State University to find out who's supplying the students with new drug "whyphy".
Once again co-written by Jonah Hill and directed by Phil Lord and Chris Miller, the guys behind The Lego Movie, what makes 22 Jump St funny is the constant repetition of a joke and the great Hill and Tatum partnership. Whether it's that they look too old to be at college, that their working relationship mimics a romantic relationship, or that Jenko is athletic and really thick and Schmidt is smart and insecure, the more these themes are worked into the script the funnier they become.
Giving this spoof a little extra depth is the idea that college is where you find yourself. Schmidt and Jenko were best friends through high school, twice, but at college they find themselves drawn to different people. Jenko wins a place on the football team and a place in a frat house, while Schmidt is drawn into the arts major scene -- threatening to end the bromance. For a film that appears to be utterly silly, there's clever material and occasionally, it's even quite sweet.
A bunch of familiar faces turn up to support them once again, from Ice Cube as the boys' boss, who doesn't so much act as yell his way through the film; Dave Franco and Rob Riggle, now sharing a jail cell, and Seth Rogen, who appears in the credit scenes.
Hill is in typical good form with his chatty, improv-style comedy, but Tatum is the quiet scene-stealer. Unlike Hill, he mostly does dramatic or action roles so watching him having fun with a goofy character is surprisingly good fun. He's the perfect mix of cute and stupid, and the result is adorable.
Not everything fires at full throttle, and at 112 minutes removing some of the gags that miss wouldn't have hurt, but there are enough hits to keep you smiling, and the action scenes required to liven things up. Returning fans won't be disappointed.

Cast: Channing Tatum, Jonah Hill
Director: Phil Lord and Chris Miller Running
Time: 112 mins
Rating: R13 (violence, offensive language, drug use and sexual references)
Verdict: Same again and just as good
- TimeOut