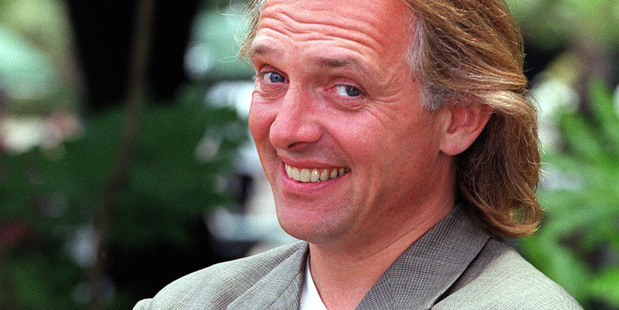 David Walliams was one of the first to pay tribute to Rik Mayall, who died this morning, aged 56.
"I am heartbroken that my comedy idol growing up Rik Mayall has died. He made me want to be a comedian," said Walliams on Twitter before sharing a clip of the actor as Lord Flashheart in Blackadder.
Mayall's management firm Brunskill Management said the comedian died at his London home on Monday.
Scottish Asian comedian Sanjeev Kohli also remembered The Young Ones actor on Twitter.
"If it hadn't been for Rik Mayall, me & about 50 people I know wouldn't be working in comedy," he tweeted.
"RIP Rik Mayall. Thank you for making me laugh a million times. Woof," said Chris Moyles, while Chris Evans said:
"RIP Rik Mayall. I'm off to hit the gasman with a frying pan. It's the least I can do," he wrote on Twitter, referring to Mayall's famous slapstick comedy.
"Rik Mayall spread a lot of fun and laughter," said author and playwright Irvine Welsh. "Very sad to see him taken before his time.
Mayall, who was also famous for his role of Alan Beresford B'Stard in The New Statesman, demonstrated his legendary humour with his one and only tweet, dated April 13 2010.
The account has since been deleted.
"Opening my very own Twitter to stop another bastard from doing it," he wrote. "So f*** off and don't expect to hear from me any time soon. Love Rik x"
Mayall is survived by his wife Barbara and three children.
Twitter tributes poured in for the comedian:
Growing up there was no one funnier ! We will really miss you Rik Mayall you genius x pic.twitter.com/tm0wcPcwcU

— noel fielding (@noelfielding11) June 9, 2014
So shocked to hear about Rik Mayall. A wonderfully funny icon of British comedy.

— Jack Dee (@TheRealJackDee) June 9, 2014
Rik Mayall spread a lot of fun and laughter. Very sad to see him taken before his time.

— Irvine Welsh (@WelshIrvine) June 9, 2014
Oh no. Awful news about Rik Mayall- a fireball of creative comic energy and inspiration. Such brilliant raw talent. http://t.co/OdAJgjMgnu

— Rory Bremner (@rorybremner) June 9, 2014
Last time I saw him he grabbed my crotch and said 'Not eaten yet then?" So sad.. Funniest man of his generation

— bob mortimer (@RealBobMortimer) June 9, 2014
Very sad about Rik Mayall. :(( I grew up on the Young Ones in OZ and Bottom Comedy genius..... Sad times

— Peter Andre (@MrPeterAndre) June 9, 2014
I'm rocked by Rik Mayall's passing. Was so lucky to have worked with him. Was such a hero and influence for me. Don't really no what to say

— James Buckley (@James_Buckley) June 9, 2014
Very sad to hear about the passing of #RickMayall #RIP The Young Ones & Alan B'Stard in New Statesman were true comedy gold

— Omid Djalili (@omid9) June 9, 2014
- Independent