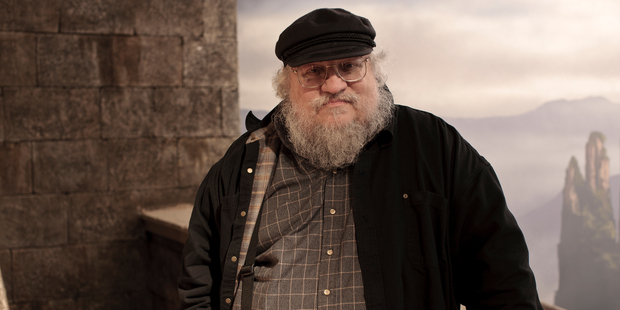 As if he hasn't put Game of Thrones fanatics through enough emotional turmoil by killing off their favourite characters, George RR Martin has said he will give a fan a "grisly" end - by writing their death in a novel in exchange for a £20,000 (NZ$39,500) donation to his favourite charities.
As part of his fundraising campaign in aid of the Wild Spirit Wolf Sanctuary and The Food Depot, both operating in New Mexico, Martin is offering a string of prizes, including writing their death in a future A Song of Ice and Fire novel.
Moneyed fans with some spare cash will enter a draw to become the 'Martyr' donator, allowing them to choose their character's station in the novel before they die. There is one male and one female character available, according to the author.
Meanwhile, a person who forks out £7,500 to gain the title of 'King' donator will be sent Martin's "well worn" sailor's cap in the post.
For followers of the series without thousands of pounds to give, any donator offering over £10 will be entered into a draw to meet Martin in Sante Fé, before being taking on a helicopter ride with him to the wolf sanctuary for a guided tour.
"If there's anything you have ever wanted to ask me, here's your chance!" wrote the author on his Prizeo page.
But with all this time spent on creating competitions and hanging out with fans, the author can't have much time to actually finish writing the next book in the series - a fact many fans of Game of Thrones have worried about. Will he ever finish? Will the show catch up to the books? Will we be waiting forever?
So here are five things Martin has been doing instead of finishing A Song of Ice and Fire:
1. Tweeting Kim and Kanye.

I don't know why I wasn't invited, I'm great at weddings... @KimKardashian @kanyewest

— George RR Martin (@GeorgeRRMartin_) May 25, 2014
Actually, that tweet is from a parody account, because...
2. Martin is a blogger..
His only online presence? A Livejournal page (it was a thing before Facebook and Twitter and Instagram). On it, Martin ponders the meaning of various public holidays, keeps fans up to date with his travel plans, and other people's books he's been editing. All things that are not writing the next installment.
3. Interviews.
A lot of interviews. We get it, Martin is a fascinating guy - and we would love to chat to him, given the opportunity. But does anyone else think he is spending more time talking about writing the books than actually, ah, writing them?
4. Sorting out his computer.
The author shocked quite a few people recently when he revealed he does all his work on a 1980s, MS-DOS computer that can't connect to the internet. He insists it means his work is eternally safe from viruses. We say, it must be impossible to lug that thing around when touring the world for all those interviews.
5. Being funny.
Just watch the video and see.
- Independent and nzherald.co.nz