So who is this Katy Perry woman anyway and why is the world obsessed with her? Lydia Jenkin takes a look behind the dayglo.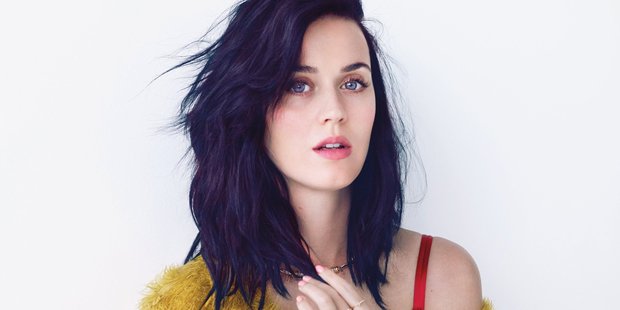 If you type "Katy Perry" into the Google News search bar this week, you'll come up with a wide array of stories.
They range through the entertaining fluff photos of her stepping out in London with Ellie Goulding, to dissections of the costumes used in her current tour; gossip about whether or not she's still dating Diplo; commentary on her Billboard magazine cover; and an in-depth think piece around her recent provocative V Magazine photo shoot with Madonna.
There's the news about her portrait being hung in the National Portrait Gallery in Washington, the promotion of a scary new candy-themed waxworks version of her visage going into Madame Tussauds, and a story which "reveals" her tour rider - raw fruit and veges, a bottle of pinot gris, some tortilla chips, and pink and white flowers.
It's fair to say, the world is a little obsessed with the 29-year-old pop star.
Whatever you think of Perry, you can't really argue with the stats. She's had billions of YouTube views; holds the record for the most quintuple-platinum certified singles in the US (she has six); as of November 2013 has sold more than 11 million albums and 81 million singles; has had nine No1 hits in the US; remains the only artist to have spent 69 consecutive weeks in the top 10 of the Billboard Hot 100; and is the most followed person on Twitter in the world, with 53.2 million followers.
So why does she have such a hold on the eyes and ears of so many? It's not just the KatyCats (the nickname for her fanbase) - she's also forged a bond with the rest of us who hum along in the car, or watch her videos has been released, or perhaps even buy a ticket to her show, knowing that it will undoubtedly be a crazy night of entertainment.
That assurance that whatever Perry is doing will be entertaining, is a key part of her success.
Whether it's via outlandish costumes (the whipped-cream squirting bra and the technicolour Egyptian queen outfit are just two of many examples), extravagant videos (taming a lion in Roar, flying through space like an intergalactic alien in ET), or huge multi-faceted live performances (her geisha-inspired display at the American Music Awards may have sparked controversy, but was eye-popping all the same), her name has almost become synonymous with the word "spectacle".
And that's before you account for her music. Yes, they are bombastic pop concoctions, sometimes saccharine, cliched, repetitive. But, with help from her production army, she sets them all to some anthemic hooks, and somehow manages to balance her overly earnest ballads with a great dose of innuendo, winks, nudges, and double-entendres.
That's her other secret weapon - a sense of humour.
She knows that she's part of a ridiculous machine, and she's embraced that. There's no artistic pretensions, it's about having fun.
Her latest video for Birthday, sees her head to five unsuspecting birthday parties as five different party entertainers: an ageing Vegas exotic dancer, an inappropriate Jewish MC, a drunk incompetent clown, a hillbilly animal trainer (who eats a mouse in front of the kids), and a fairy princess with terrible face-painting skills. If you haven't seen it, you should.
It displays a remarkable set of comic acting skills, a willingness to make a fool of herself, and a true love of entertaining. There aren't many pop divas who would put themselves through that experience for the sake of a music video.
The same goes for her Saturday Night Live appearances which have included stints as a blooming schoolgirl from the Bronx, and a foul-mouthed Pippa Middleton.
And it must be said that any woman who has been married to Russell Brand must have a GSOH, and an appreciation for the ironies and fallacies of the world.
Perry knows how to walk that line of being conventionally controversial though - she may support the Obamas and have told Aussie Prime Minister Tony Abbott that she'd never support him because of his negative stance on gay marriage, but she always plays nice in interviews and somehow manages to maintain an all-American girl-next-door image.
Perhaps her conservative family background helps - she was raised by two Pentecostal pastors, and her very first album was a faith-based gospel record at 16, so though she's no longer part of that world, Perry manages to make people from all walks of life feel included.
Of course, it undoubtedly helps that she knows how to smile coquettishly, and present her natural assets with confidence (she's been voted the hottest woman in the world by at least four publications), but the fact she manages to do it while also keeping the parents of millions of teen and tween girls onside is a talent.
But perhaps the most potent factor in keeping the world eating out of her hand, is Katy Perry's knowability.
She seems like she could be your best friend. She's got a knack for making every song seem like a diary entry, her Twitter feed seems open and honest, and she fills her lyric videos with glimpses of her doing mundane things like eating breakfast and working out. She gets her fans to root for her as a whole person, not just a star.
And the 2012 concert movie Part of Me was something of a revelation. Combining behind-the-scenes material and concert footage from her California Dreams tour, with biographical interviews, and footage, it shows Perry from all different sides - the shiny cartoon exterior, the family girl, the ambitious, hard-working artist, and the broken, vulnerable woman who has to pick up the pieces after her marriage collapses mid-tour, and carry on.
Sure, it was well-constructed, cleverly cut piece of promotion, but it also served as an engrossing documentary that let fans even further into her life.
Perry is certainly a savvy business woman who knows how to play all the angles, but she's also devoted to giving her fans everything they could want, and you can be sure her Prismatic world tour will deliver.
- TimeOut