We trawl through the gossip mags, so you don't have to.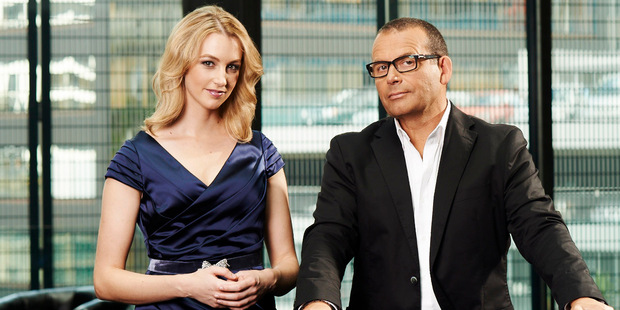 1. In the words of Coldplay, "Nobody said it was easy, no one said it would be this hard". You imagine TV3 newsreader Janika ter Ellen must hum that to herself quite a bit working on the Paul Henry Show. After starting out a "little apprehensive" about working with Henry, the "striking sidekick" has put her foot down, according to Woman's Day. No more miss nice girl, ter Ellen says she is matching Henry at his own game, and the cheeky newsman likes it. But apparently dealing with the "very, very naughty" Henry is just one challenge the 27-year-old has to overcome. The biggest? "It's avoiding the Wendy's drive-thru on my way home. Baconator! Do you know how hard it is to resist all that cheesy, bready, meat goodness at that ungodly hour?"
2. We revealed it here on Friday but WD have a very grainy photo of Alison Pugh's engagement ring. They reckon, like us, that the Breakfast host's bestie Matty McLean will probably be the celebrant at her wedding to musician fiance, Jo Barus.
At least she knows he'll put on a good show.
3. "Sometimes I think about my life and wonder 'How did it get like this?'" This isn't Frankie Adams, who plays Ula on Shortland Street, complaining. Nope, the just-turned-20-year-old tells New Idea moments like meeting Snoop Dogg and having dinner with Erykah Badu are still a little strange for the girl who started acting at just 16. And while she's in no hurry to leave the soap, Adams says the silver screen is calling. "I definitely want to do the LA thing at some point, give it a crack over there in Hollywood."
4. Two Kiwis who have taken the step to the States are Siobhan Marshall and Antonia Prebble. The pair, who starred together in Outrageous Fortune and The Blue Rose hit Las Vegas to attend the New York Festivals International Television and Film Awards ceremony (yeah, it doesn't make sense to us either) where Rose was nominated. Along with a bit of obligatory gambling, Marshall was brought to tears by the beauty of the Grand Canyon: "It was so overwhelming. I just kept thinking that if this is possible - if something like this can exist - then anything is possible. It was that insane," she tells NI.
5. Who doesn't love a good baby story? New Zealand Woman's Weekly certainly fill the Prince George-shaped hole this week with a lovely spread on Marcus Lush, his partner Vanessa and their little boy Tracker. The bub is named after a Bluff oysterman who is the dad of Lush's neighbour, but his parents were convinced they were actually having a little Tracker-ette. The pair had even picked out "the best" name for a girl - November Rain. Apparently Vanessa was on board with it, so look out any future Lush Jrs.
- nzherald.co.nz