Producers request on-air confirmation from Pugh to beat presses.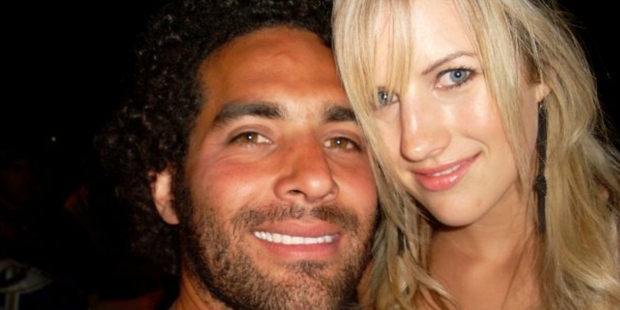 TVNZ Breakfast star Ali Pugh confirmed to The Diary she is engaged to her partner of seven years, Jo Barus, a musician from rock band The Dukes. She said she's "blissfully happy" but would prefer to keep the news on the down-low. However, her producer would rather the news was announced on the telly than in these pages. Cue a small declaration on-air today.
The bubbly blonde, who said yes to her Indonesian boyfriend at the weekend, wore her new ring on Monday but hadn't expected viewers to notice.
"She took it off after that and didn't wear it on-air again," said a TVNZ rep. "She's still adjusting to all the attention she gets as the show's co-host."
The Diary contacted her father, Graeme, a former Christian missionary, yesterday but he refused to comment.
A network insider said Pugh prefers to stay schtum about her private life, and few at TVNZ were aware of the news: "If Ali is engaged, then Matty McLean will probably be the celebrant. He and Ali are besties."
The good-looking couple have both relocated from Christchurch to Auckland permanently. A family friend of Pugh's told The Diary the pair are unassuming when it comes to romance.
"Jo's proposed a couple of times over the years but she's said no, despite them living together. Perhaps it was a bit of a condition of him moving to Auckland with her. I don't think there was any grand proposal. They literally just went and got a ring. They are being very low-key about the engagement."
Cambo and wife split
Veteran Kiwi golfer Michael Campbell announced yesterday he's pulling out of the US Open at Pinehurst, nine years after his triumph on the same course.
He said he's not "mentally ready" after splitting with wife Julie and suffering an ankle injury.
But in a revealing interview in the June issue of Golf Magazine, his Australian wife of 18 years said Campbell's woes are not helped by New Zealand's tall poppy syndrome.
The couple, who relocated to Spain's Costa del Sol in 2012 with teenage sons Thomas, 15, and Jordan, 13, announced their separation via Campbell's website yesterday. But his father, Tom, told The Diary he understood the couple have been separated "about six months".
Campbell hasn't played competitively since January when he missed the cut in the Abu Dhabi HSBC Golf Championship. Rumours circulated he was experiencing marriage problems. Yesterday Campbell admitted: "Unfortunately Julie and I have separated."
However, Julie (a former body double for Elle Macpherson in the movie Sirens) put on a united front in the interview with Golf Magazine. There was no mention of a split.
Instead she said her husband was uncomfortable with his wealth in New Zealand - where "everyone's humble" - and struggled to deal with the anxiety and scrutiny of his career slump. He once ranked 12th on the Official World Golf Ranking, but now ranks 520th.
She said: "The pressure was enormous. Especially in New Zealand, because they treat their sports heroes as godlike figures, bigger than rock stars. But as soon as you have a little dip, they cut you off at the ankles."
Campbell concurred. "You feel disheartened, really. I was used to the highs, I'd been to the top of the world in golf, and then ..."
Did we put too much pressure on Campbell to succeed? Was he carrying the burden of 4 million people on his shoulders?
His British-born coach, Jonathan Yarwood, said Campbell's Kiwiness was a factor in his career decline.
"Michael has this warrior inside him that wants to take on the world. But there's also this little shy guy from New Zealand in there.
"It kind of accounts for the up-and-down career he's had ... he's got some psychological scar tissue," Yarwood told Golf Magazine.
His parents, Tom and Marie from Titahi Bay on Porirua's peninsula, told the Diary they are proud of their son.
"He's doing the best that he can," his dad said yesterday.
Asked when the couple split, Campbell Snr said: "I don't know exactly and I don't want to get the date wrong, but I think it was about six months ago. It could have been longer."
They raised their son on limited means and were proud when he went on to become a professional golfer, driving luxury cars and owning homes in London, Sydney and Brighton. But his wife said that didn't always sit well with her husband.
"Michael got embarrassed about how much money he was making. In New Zealand, everyone's humble. It's safe, you can leave your doors unlocked."
It is understood the Campbells continue to live in Benahavis, Spain, where Michael is the brand ambassador for the Hotel Villa Padierna Palace and runs the Michael Campbell Golf Academy.
In his website statement yesterday, Campbell said: "Our children remain our number one focus as we move forwards - as parents first and foremost while remaining both friends and business partners."
His IMG agent, David Rollo, did not return calls.
Hollywood on hold
Former soap star Shavaughn Ruakere has put her Hollywood dreams on hold. The actress, who played Roimata on Shortland Street, told a women's mag in January she was relocating to Los Angeles for her career, but would maintain a long distance relationship with boyfriend Clarke Gayford.
But she wrapped shooting last month on a period mini-series, When We Go To War, and this week took part in a women's mag breast cancer promotion in support of her friend Helena McAlpine.
A move to the bright lights of Tinseltown is still hopeful. Her agent, Imogen Johnson, said, "she will in due course".
Prodigal daughter returns
She's baaaack. After a few days on self-enforced leave, Cabinet Minister Judith Collins returned to the parliamentary fold yesterday ready for action. The Diary contacted Crusher, who said: "I'm back at work and getting straight back into it. I really enjoyed a few days off, but it's back to business now."
Shorty star's striptease
Her character on Shortland Street has quite the raunchy love life, but actress Sally Martin, 29, (who plays bisexual nurse Nicole) turned a deep shade of blush on Wednesday when she was serenaded by castmates for her birthday ... with a striptease.
A source said: "Pua Magasiva (no surprises there) and Cam Jones surprised her with a striptease dance-off to the song Mustang Sally while she was in the make-up chair. It was all very above board. Definitely not the full monty!"