Tilda Swinton has no qualms about changing her appearance for a part, as proved by her latest roles playing a 3000-year-old vampire and an 80-something eccentric, writes Helen Barlow.
She's not one for acting her age, is Tilda Swinton.
When Angela Lansbury turned down the role of an 80-something heiress in The Grand Budapest Hotel, director Wes Anderson offered 53-year-old Swinton the job.
In Korean director Joon-ho Bong's gripping post-apocalyptic actioner, Snowpiercer, Swinton again donned prosthetics to play a wizened Maggie Thatcher-style tyrant in a world where the last remains of humankind are aboard a giant train circling a world undergoing a new Ice Age.
But the Scottish actress is at her most ancient in Jim Jarmusch's Only Lovers Left Alive, where she's 3000-year-old vampire Eve, married to 500 year-old Adam (played by Tom Hiddleston, the Thor actor who is 20 years her junior).
In her own life Swinton is in a relationship with German-born, New Zealand-raised painter Sandro Kopp, 36. She met him in 2004 on the New Zealand shoot of Andrew Adamson's The Chronicles of Narnia, in which she played the White Witch and he was the front half of a centaur.
Kopp often works on Swinton's film shoots - he took the publicity stills for Only Lovers Left Alive. They reside in the Scottish Highlands and are raising her teenage twins, Honor and Xavier, from her previous 17-year relationship with playwright and artist, John Byrne.
So what did her younger man say about her pairing with Hiddleston in Lovers?
"Tom's even younger than him. I never think of Sandro as younger. He is way older than me, way older."
One of the film's elegantly rendered scenes has the lovers' pale bodies lying on black sheets, with Swinton every bit as lithe and beautiful as Hiddleston.
"We wanted this feeling of us being one shape together and we wanted the perspective to be from above," Swinton explains. "What was so beautiful about having us on black sheets is because we are so white - it was a little like writings, like a Japanese character or something."
Swinton, who appeared in the veteran New York director's earlier The Limits of Control (2009) and Broken Flowers (2005), was a driving force in helping get his hipster vampire flick off the ground.
"Jim and I have known each other for a long time," she says. "It took us eight years to get this movie made. The first thing he said to me [adopting his deep, deep voice] 'I want to make a film about vampires with you'.
"The second thing he said to me was, 'read this book by Mark Twain, The Diaries of Adam and Eve'. It has these very witty, very fond, diary entries by Adam like, 'who is this annoying very enthusiastic person by my side all the time offering me an apple?' So we mixed the two ideas into a story of vampire lovers."
But this Adam and Eve aren't quite in the Garden of Eden. Initially Eve lives in Tangier before joining Adam in a desolate Detroit, where he spends his nights playing and recording his doomy art-rock in his home studio. He's angry about what humankind has done to the world. She's more philosophical.
"They are really yin and yang" says Swinton. "Where he sees decay, she sees nature everywhere. Where he sees black, she sees white. But then she is 3000 years old ... she has got an even higher perspective. Detroit is fascinating because of the whole build-up of the city and its riches, and then its decay has taken 100 years. For her that's like somebody putting up a stall for a fair in the morning, selling a few loaves of bread, or cars, and then taking it down. It's nothing to her, 100 years. He gets caught in the decay; she just she just keeps looking forward."
Their vampires certainly don't fit the modern mould set by the likes of Twilight or True Blood.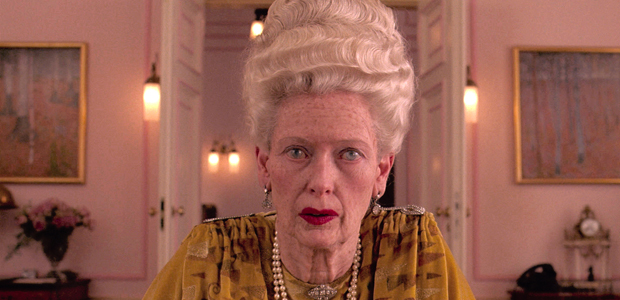 "Playing an immortal or non-human is a great luxury because you can really pick and choose," says Swinton. "We decided that vampires were closer to wolves. We wanted their hair to be like fur and their eyes are like wolves' eyes.
"We wanted to work with all these different rhythms and as she walks through Tangier, Eve even lopes a little bit. I don't really walk like that."
And in The Grand Budapest Hotel, Swinton looks even more unlike herself, with a coating of makeup she describes as having "half a butcher-shop of meat" on her face. She's Madame Celine Villeneuve Desgoffe und Taxis - "Madame D" - one of the favourite guests (and more) of Ralph Fiennes' hotel concierge.
Her Lovers character might be immortal and her Hotel one quite the opposite, but Swinton thinks Madame D and Eve have something in common.
"One of the things I really love about both of these characters is that they are so young at heart and so in love," she told Film Comment. "They are both ancient young lovers. I would hope that I would look half as good as Madame D. when I'm her age. She tells everybody she's 83, but she's actually at least in her middle-90s."
In recent years Swinton, who won an Oscar for her supporting - and possibly her most conventional - role as a company lawyer opposite George Clooney in Michael Clayton (2007), has been active in producing her own movies. That's included the acclaimed Italian melodrama I am Love (2009) and We Need to Talk About Kevin (2011).
Her films may not always be big box office affairs.
But her independent streak and her appearances in everything from art projects (sleeping in a glass box as part of an installation called The Maybe in various art museums) to David Bowie's comeback video for The Stars (Are Out Tonight) have all helped her reputation as one of the coolest women on the planet.
"I know so many people for whom the word 'cool' is really not to be spoken. I have a very healthy head about that. It's kind of not my business. I suppose it's better than people thinking one is completely impossible."
Who: Tilda Swinton
What: The Grand Budapest Hotel and Only Lovers Left Alive
When: Both at cinemas now
- TimeOut