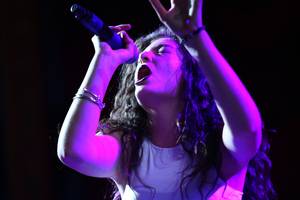 Being sick hasn't stopped Lorde from booking a slot at another major festival later in the year.
Yesterday, the Kiwi chart-topper cancelled an eight-date Australian tour, due to start in Melbourne on April 24, after being ordered off the road for "immediate rest and recuperation in order to regain complete health" by her parents and doctors.
But Lorde is already lining up replacement dates for the tour, saying she'll likely return to Australia in November - and she's also booked a major US music festival slot, performing alongside Eminem, Outkast and Major Lazer.
That festival, Austin City Limits, is held over two weekends in October, and will also feature performances by Beck, Pearl Jam, Skrillex, Chvrches, Lana Del Rey and Major Lazer.
Lorde is only booked to play the second weekend, October 10-12.
In yesterday's announcement, Lorde told fans: "It breaks my heart to have to postpone these shows as the band and I absolutely love playing to Australian crowds, and it was not a decision we made lightly. I know I need to focus on getting better in order to perform at my best. We'll be with you as soon as we can, Aussies".
She confirmed over Twitter that she was suffering from a chest infection, which some fans suffering the same thing suggested was "Coachella flu" after her dual performances at the US festival.
Organisers are currently trying to reschedule the Australian tour. Lorde is due back in the US for a performance in Baltimore on May 17, before heading to Europe for a series of festival performances.
Her Australian tour had already been expanded, with an extra date added in Sydney after her first show there sold out.
It's the second time Lorde has skipped out on Australia this year, after the singer flagged the Gear Up festival in Adelaide on February 28 to focus on her US tour.
The 17-year-old has just wrapped two performances at Coachella Festival in the States.
Before that, she played at Lollapalooza in South America, as well as solo shows around the States.
Earlier this month she performed alongside the surviving members of Nirvana as they were inducted into the Rock & Roll Hall of Fame.
- nzherald.co.nz