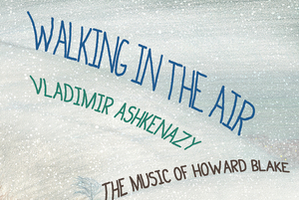 Vladimir Ashkenazy: Walking in the Air (Decca)
Stars: 2/5
Busoni: Late Piano Music (Hyperion)
Stars: 5/5
Verdict: Two recent piano releases run the gamut from the sublime to the simply dull
Rossini impishly labelled the music of his later years as the "Sins of My Old Age", a description that comes to mind for Walking in the Air: The Music of Howard Blake, the latest release from 76-year-old Vladimir Ashkenazy.
Howard Blake always was a minor figure in British music, a film composer some know for his rather kitsch Piano Concerto, commissioned for the 30th birthday of Diana, Princess of Wales.
Anyone with a brain must be suspicious when he or she sees that the Opus numbers on Walking in the Air stretch to 650. Don't expect complexities here; this is music designed for sedation rather than stimulation.
The sorry spectacle of a once charismatic pianist tinkling his way through mushy muzak like the title piece or Music Box is depressing.
Optimists might detect a little more passion and flair in a 1976 Sonata for Two Pianos in which Ashkenazy is joined by his son Vovka, but too much of it consists of soft-edged nods to Copland and Bartok.
Blake's Piano Fantasy Opus 1, alas, shows a promise palpably unfulfilled.
Marc-Andre Hamelin's collection of the late piano works of Busoni is an unmitigated triumph. Ferruccio Busoni (1866-1924) was one of music's enigmas. A keyboard Titan of his time, he was also an idiosyncratic composer. His futurist philosophies can be heard in his mammoth 1904 Piano Concerto, running at well over an hour with a choral Finale.
Hamelin's three-disc survey runs from the brooding Elegies of 1907-09 through to the more academic Studies of the 1925 Klavierubung, based around scales, trills and other such technicalities.
One staccato study is a fleet-fingered transcription of the Minuet from Don Giovanni and Busoni's penchant for quirky arrangements can be heard on other tracks. You'll enjoy the sparkling 1920 Fantasia after Carmen and, from five years later, a set of variations on Chopin's C minor Prelude.
Hamelin is a persuasive pianist in recordings that bask in the luxurious resonance of London's Henry Wood Hall. His eminently readable booklet notes are the perfect guide for what could be the musical trip of a lifetime.