Five TV shows that will keep couch potatoes glued to their screens over the coming week.
Field Punishment No.1
When:
Tuesday, 8.30pm
Where:
TV One
What:
A hard look at World War I history
Field Punishment No.1 - it's not easy watching. But then again, revisiting the theatre of war probably shouldn't be.
Almost a century on from the start of World War I, we are preparing to look back, remember, and maybe even learn.
The makers of Tangiwai - A Love Story have opened up the history books to tell another somewhat unknown Kiwi story. Field Punishment No.1 is a harrowing look at New Zealand's first conscientious objectors, the men who stood up and opposed World War I.
Written by Lippy Productions' Paula Boock and Donna Malane, is the story of 14 of those men, who were arrested for their views and shipped off to the frontline against their will.
Once there, be it on the battlefields or in the military prisons and insane asylums of Britain and France, the men were degraded and tortured in an attempt to break their spirits. They were called cranks, cowards and shirkers, and the tele-movie doesn't skimp on details of the abuse. At times, the violence is gut-wrenching, and the important stories are often tough to stomach.
Perhaps New Zealand's most famous "conchie", Archibald Baxter - the father of poet James K. Baxter - is the face of these men in Field Punishment No.1, played by Fraser Brown (The Insider's Guide To Happiness, Harry).
But Boock wanted this to be about more than just one man. "It's not just about Archie; we wanted to tell the tale of the 14."
Among them is Mark Briggs. His story isn't as well-known as Baxter's, but Boock describes him as being perhaps more dogged and intransigent in his views than any of the others. It's a hard-core stance that costs him."
And there were the other Baxters - six of the seven Baxter brothers would eventually go to prison for their beliefs against the war. The seventh was married, which meant he had a case for exemption. And Baxter's son Terrance went on to be a conscientious objector in World War II.
Though there are obvious links to the World War I commemorations, Field Punishment No.1 will screen on Tuesday rather than on Anzac Day itself. Boock is realistic about the scheduling.
"We are just happy it's being shown. Any time people are thinking about the war is good.
"I understand why [TVNZ] probably didn't want it to be shown on Anzac Day - it could feel perhaps deliberately provocative.
"All our stories from the war should be told.
"Even people who may not politically be supportive, maybe they will be able to feel and come to some understanding. Sometimes that is what art can do - it helps you leave behind preconceived ideas and walk in someone else's shoes."
Beatles: A Grammy Salute
When: Friday, 9.00pm
Where: TV One
What: A golden anniversary
February 9 this year marked 50 years since The Beatles made their first ground breaking appearance on The Ed Sullivan Show. A remarkable 73 million Americans watched and fell in love with the Brits, and the appearance really did signal the level of Beatlemania about to envelope the US. To celebrate their legacy, a bunch of big names got together the day after the Grammys at the Los Angeles Convention Centre and recorded a concert full of covers. The Eurythmics, Alicia Keys and John Mayer (pictured), John Legend, Maroon 5, Katy Perry, Dave Grohl, Stevie Wonder, and Pharrell Williams, are all on the list, plus the remaining two Beatles, Sir Paul McCartney and Ringo Starr, perform together again, and sit down with David Letterman. The all-star finale with everyone singing Sgt. Pepper's Lonely Hearts Club Band, With A Little Help From My Friends, and Hey Jude all together is a highlight, but the show also includes some great footage from the group's landmark first appearance.
Manhunt
When: Tuesday, 7.30pm
Where: Discovery Channel
What: Cat and mouse with the professionals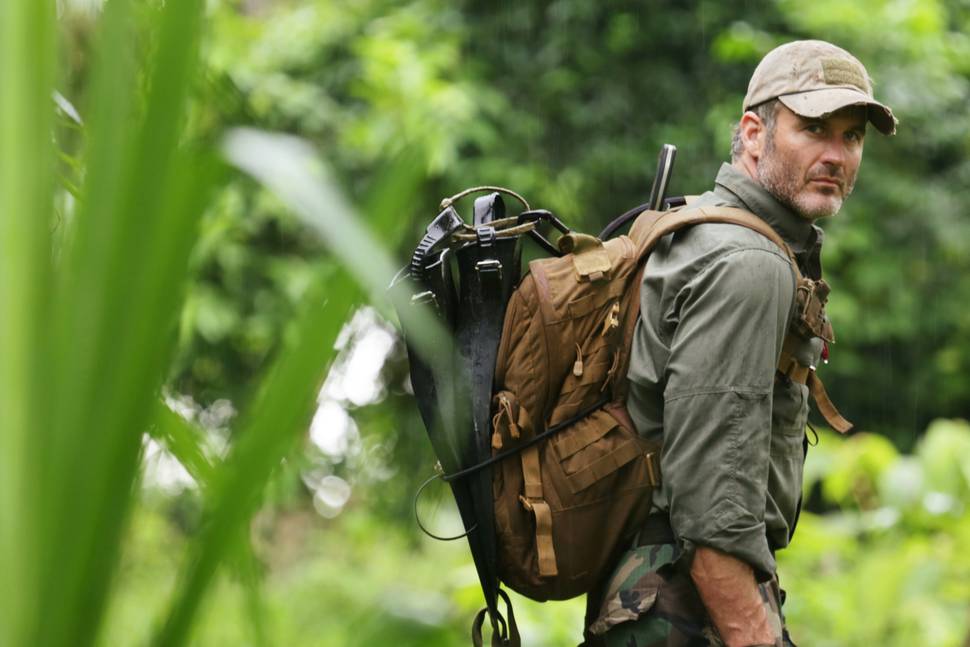 Some people like to put themselves in crazy situations, and Joel Lambert is one of them. The ex-Navy Seal is at the centre of this new show in which, each episode, he is dropped into unknown territory with nothing but a basic survival kit and a canteen of water, and then has 48 hours to reach a pre-determined extraction point, all while being pursued by a tracking unit. Each week that tracking unit will be different, and will include U.S. Army Phantom Recon, the Polish Grom, the Royal Marines and U.S. Border Patrol, and they have the advantage of being familiar with these otherwise exotic locations. Lambert will use diversionary tactics like setting booby traps, and will rely on the survival skills he learnt in 10 years as a Navy Seal in order to, hopefully, evade capture. The first episode drops him in South Africa, in a private game reserve, to be hunted by the International Anti-Poaching Foundation - and try to avoid a run-in with the local wildlife, like a pride of lions on the prowl.
Orphan Black
When: Wednesday, 8.30pm
Where: Soho
What: Season two of the mixed-up show about clones
Are you ready to re-join the Clone Club? Orphan Black fans should rejoice at the return of the cult sci-fi hit on Soho this week. The first season was an addictive thrill ride that felt like a cross between a bonkers X-Files case and the fast-and-furious action pace of 24, thanks to multiple twists and cliffhangers. Let's not forget that gruesome incident involving a man having his tail hacked off. Yes, his tail. That Orphan Black is effortlessly watchable is thanks to the split personality acting skills of Tatiana Maslany, whose performance in multiple roles here - she played nine characters in season one, sometimes as many as four in the same scene - has earned her many award nominations and a Gillian Anderson-style following among the show's geeky fans. So what can we expect in season two? Details are super-secret, but we know more clones are coming, thanks to the unveiling of cancer-stricken character Jennifer Fitzsimmons. Poor Tatiana. If she hasn't developed a split personality disorder yet, it can't be far away.
Mad Men
When: Sundays, 8.30pm
Where: Soho
What: Start of the long goodbye
Will 1969 be the year of the redemption of Don Draper? Or just the year where he hits rock bottom even harder? Those are the questions hanging over the return of Mad Men for its final and seventh season - though it's one split into two 10-episode halves, the second screening next year. Having been shown the door of Sterling Cooper after confessing the truth about his whorehouse upbringing to colleagues and a client - and, having shown his kids where he, as Dick Whitman - grew up he's certainly come clean about a lot of stuff. In the first episode, we find Don still in a bit of a state as he spends his suspension visiting Megan on the West Coast after she shifted her acting career to Hollywood. He's not the only one with personal upheavals. Roger Sterling is embracing free love - with messy results - and Peggy Olson isn't coping very well with life at the Don-free agency. But it appears that for bitter Pete Campbell, his shift to Los Angeles may have been just what he needed.
- TimeOut