Five shows that will keep couch potatoes glued to their screens over the coming week.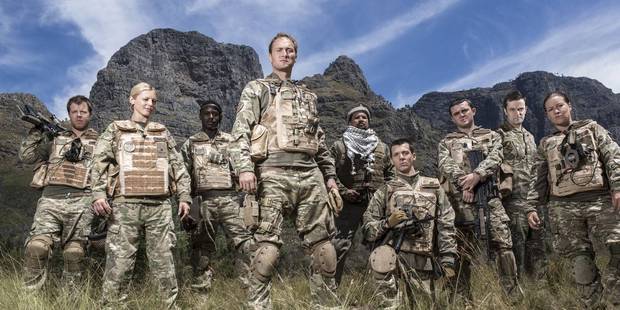 Pick of the week: Bluestone 42
It's one of the more unlikely sounding sitcom ideas of recent times. The original pitch for Bluestone 42 might have been: "The Hurt Locker meets Miranda."
This new eight-part series is a comedy about a British Army bomb disposal unit working in Helmand Province, Afghanistan. And yes, you did read that correctly. Filmed in South Africa, the sitcom is scripted by Richard Hurst and James Cary, who made their names writing the hugely popular knockabout comedy Miranda.
The show zeroes in on Bluestone 42, a detachment of bomb-disposal soldiers held together by deep camaraderie and relentless banter. In some senses, it is a typical workplace comedy - it just happens to be set in a rather more extreme workplace than, say, The Office.
The team, led by cocksure Captain Nick Medhurst (Oliver Chris) and overseen by the Lieutenant Colonel (Tony Gardner), exhibit all the familiar workplace gripes, such as complaining about the tasks they are made to do, bickering with colleagues, jostling for promotion and moaning about canteen food.
At one point, the Lieutenant Colonel tells Nick, who is eyeing up an endangered lizard as a tasty alternative to the fifth consecutive day of tomato pasta bake: "What's the first rule? If you want good food, don't join the army. We should have stuck to what we know and invaded France." Teetering just the right side of insensitivity, Bluestone 42 strikes a balance between edgy and entertaining.
Hurst says there are similarities between Bluestone 42 and Miranda.
"In many ways, this is not that different from Miranda. It certainly has one foot in traditional sitcom. Like Miranda, it's about a group of people trapped together, and each week it weaves together three different plots."
But in many other respects, of course, Bluestone 42 is the polar opposite of Miranda. Hurst says they went to great lengths to ensure the series felt as authentic as possible. "We were worried because we didn't want anyone to be offended by it. So we did an enormous amount of research and talked to a lot of soldiers. We had a military adviser with us on set every day. We wanted to make something that soldiers would look at and say, 'Yeah, that's basically what it's like'."
There are precedents for such a show. Blackadder Goes Forth, Dad's Army and M*A*S*H were all memorable sitcoms set against the ostensibly unpromising backdrop of war and human tragedy.
Cary says: "The armed forces are pretty much the last respected institution in British life. We don't think much of politicians - in fact, we don't think much of many people. But we think an awful lot of our soldiers because, time after time, we ask them to do the impossible and they continue to deliver. I hope we reflect that in this show."
McCrum adds: "In Bluestone 42, we set out to celebrate those bits of the British Army that you don't see in documentaries. What I wanted to see in this show was the people behind the uniforms, the humanity, the banter, the camaraderie.
It's certainly an immense change of gear for Hurst and Cary after the slapstick buffoonery of Miranda.
"We just wanted to get away from all that falling over," Hurst says, with a self-mocking smile playing across his lips. "Having said that, there is some falling over later on in Bluestone 42. Thank God!"
When: Thursdays, 9.25pm
Where: UKTV
What: An Afghanistan M*A*S*H*?
Travel pick: James Nesbitt in New Zealand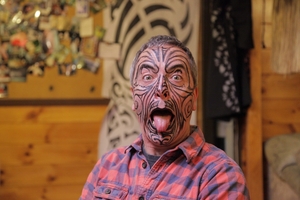 This one-off documentary was clearly made with Brits in mind, but fortunately James Nesbitt is a charming enough host to make locals smile too, plus there's a few bits of information which might surprise. Nesbitt spent the best part of three years living here while filming The Hobbit (playing Bofur), so now he gets to share some highlights from his New Zealand experience. He begins in Auckland, tackling a jump off the Sky Tower, and chatting to Jonah Lomu about our obsession with rugby. Then he heads to Waitomo to talk to sheep farmer Billy Black (yes, really). He visits Rotorua's thermal wonders, learns some taiaha, and then checks out the best baristas in Wellington. Of course he stops in for a chat with Peter Jackson (who he calls "boss"), before spinning high above the Abel Tasman in an acrobatic plane. His visit to Christchurch will tug on your heartstrings, and the "Perfect Kiwi Woman" competition in Wanaka is a hoot, before Nesbitt finishes with a spot of wine appreciation with local vintner Sam Neill.
When: Sunday, 8.30pm
Where: Prime TV
What: Explaining our Kiwi ways to the world
Wildlife pick: Supergiant Animals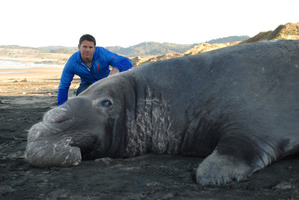 Bafta-winning British naturalist Steve Backshall travels across the world to encounter some impressively sized animals, and discovers the remarkable things they can do, like the Burmese python that swallows an alligator, and an elephant seal that batters a pick-up truck. The question is, why have they evolved to be so big, and is it always an advantage?
Also in the impressively large category is Supersize: I Lost The Weight But Lost my Husband, on TV3, Thursday at 9.30pm. This one-off documentary looks at a variety of different relationships that have been affected by weight loss in one or both partners. Apparently an astonishing 85 per cent of relationships end within two years of one partner having weight-loss surgery, and this show looks at how a transformation that is generally expected to bring better health and happiness can cause the opposite.
When: Tuesday, 7.30pm
Where: TV One
What: The world's biggest creatures
Drama pick: Justified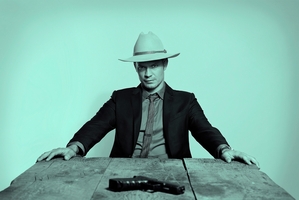 Following hot on the cowboy bootheels of season three, season four of this blast of a show picks up with US Marshall Raylan Givens expecting a baby, and hoping to inflate his bank balance so he can support a family. Running a fugitive down for a payday seems like a good idea, but then Givens learns of a break-in at his imprisoned father Arlo's home, and unwittingly starts to pick at the thread of a cold case over 30 years in the making. While his Aunt Helen surely would've told him to leave it alone, Givens is determined to unravel the riddle that goes back to his boyhood, and his father's bad dealings. Meanwhile, Boyd Crowder finds he doesn't have the same criminal hold on Harlan County as he used to - Pentecostal Preacher Billy of the Last Chance Holiness Church is 20 years old, has a penchant for theatrics with serpents, a knack for manipulation, and is seriously undermining Crowder's drug trade.
When: Tuesday 9.30pm
Where: Soho
What: The man in the hat is back
Comedy pick: Veep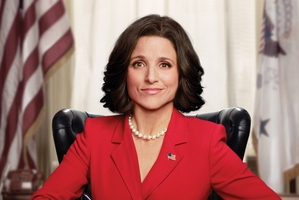 Kevin Spacey's Francis Underwood might be eyeing up the vice-president job over on House of Cards, but Emmy-winning Julia Louis-Dreyfus' rather less cunning but vastly more entertaining Selina Meyer has already had that job for two hilarious seasons of Veep and now she's hoping to step up to the big chair.
The third series of Brit Armando Iannucci's US political satire has Meyer excited after hearing that the president won't be running for a second term and starting to court voters and donors while her staff vie for jobs on the campaign team as their boss eyes up the party primary. Which also means that the formerly Washington-bound comedy is busting beyond the beltway with trips to Silicon Valley, London and into the American heartland. But some things remain the same - like the various characters' ways with a withering insult.
When: 8.30pm Thursday
Where: SoHo
What: Selina starts her run for the Oval Office
- TimeOut / Independent