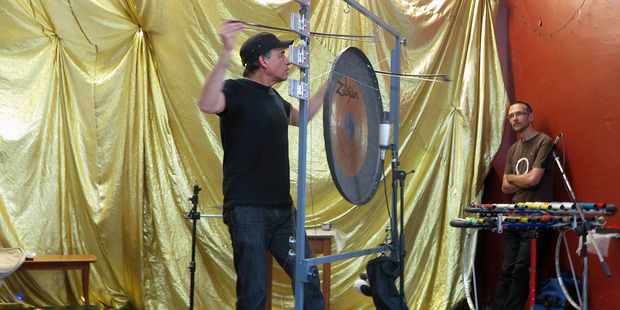 In a stuffy, shabbily comfortable, gold-curtained room in the Audio Foundation last weekend, I found several men, at first looking nondescript and shy, tinkering with pieces of machinery, looking fabulous, ridiculous, and unique.
But looks here counted for nothing; the noise is the thing. Some guys build cars in their workshops, these guys build music. Here at the experimental musical instrument builders and improvisers "S3D" mini-fest, they'd turned shape and size into sound.
Colin Woods hit and scraped the spokes of his "semi-demi wheelophone", a mounted quarter-bicycle wheel. Liam Bowen played a shark's tooth as a whistle and excitedly showed us the gannet's bones he'll turn into flutes. Kraus got brutal screeches out of a Care Bears video case by patting protruding nodes of the electronic circuitry within ("bringing your skin into the circuit helps to get a complex sound").
The eclectic scene has "no ego" compared to, say, jazz improv, says audio-arts legend, laureate and S3D curator Phil Dadson: "The performers take a back seat to the instruments."
Learning how to play their creations and finding unexpected voices within them is a big motivation. The music seems as much discovered as created. Materials certainly are: inventors are scavengers at sawmills and Surplustronics.
A special guest from Chile, Enrique Siques, had stitched a huge gong to a rectangle frame. Like many of the instruments, it was a one-man-band kit with several "voices". Siques hit the gong; he plucked the wires holding the gong, making them sound like a richer, more resonant harp, and changed the tension and therefore the pitch with a foot pedal; and he threaded thin metal strips through the small holes drilled in the gong rim to produce a tinkly liquid sound, like a 1950s astro-travel science-fiction soundtrack.
Adrian Croucher - an engineering scientist, a member of the Cycling Advocates Network and once part of From Scratch with Dadson - played a large xylophone made of old 10-speed bike frames. The steel tubes were mounted on inner tubes so as not to impede their vibrato.
The inner tubes are more reliable than balloons: "they tend to pop". Also, Croucher's project is to use only bike parts - such a restriction forces creative thinking. He dreams of a foot-pedalled hurdy-gurdy, leaving the player's hands free to make more music. He sprinkled dead leaves on the xylophone, for a nice little buzzy distortion; stiff and very light, they work better than paper.
Though some of the instruments had an improvised look about them, Derek Tearne's "ratavatar" looked like a very precise prototype ready to go into production. Inspired by sitars and Chinese guzheng zithers, it has two sets of strings, and when he plucked the "fundamental" set, the "sympathetic" set also vibrated due to an arrangement of bridges - and plugged into an amp, the noise got louder after the string was plucked: "neYOWww", as Tearne put it.
Texture is modernity's addition to the musical spectrum of frequency, volume and timbre, says Dadson. "Noise has been liberated as a new musical language."
http://www.audiofoundation.org.nz/